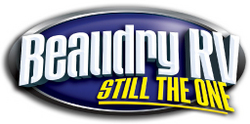 Wildlife is called wild for a reason
Tucson, AZ (Vocus) June 8, 2010
During the spring, animals come out of hibernation and they are hungry. With humans living in such close quarters to wildlife, animals such as bears, fox, squirrels and more are becoming comfortable in human habitat, which results in garbage being raided, food being stolen and cars broken into. When traveling by car or new or used RV, Beaudry RV recommends the following tips to stay safe and enjoy wildlife:
1. Bears. Bears are notorious for breaking into vehicles over the smell of deodorant, toothpaste, French fries and other food. They have become a nuisance in campsites, charging campers for food or climbing trees and stealing dinner from unsuspecting campers. Bears have an intense sense of smell, so it's important when camping to remove all food and scented toiletries from the RV overnight. These items should be stored in bear-proof containers or bear boxes. Campers should use bear canisters to prevent bears from feasting while campers go hungry. The more bears are able to consume food, the more aggressive they become. In spring, while campers think it's fun to photograph a mother and her cubs, letting them take food instills a belief that they have a right to that food and bears are often killed as a result of careless campers. One way to have a safe bear encounter is to find streams full of fish or berry bushes where bears eat. Early morning and evenings are the best times to view bears. Keep a safe distance. If the bear has cubs be sure not to get in between the two. Females become very aggressive if they feel their babies are in danger.
2. Foxes. Foxes are scavengers. While there are few human attacks reported by foxes, foxes have been known to steal cats and small dogs for dinner. Feeding foxes only encourages them to get close. As is the rule with any wild animal, the more they believe humans are a source of food, the more they will believe this is part of their territory and will sneak into food stashes. Spring is a great time to view foxes and cubs. Foxes create dens in covered spaces. This can often be in a culvert or in a water drainage pipe. Fox cubs start exploring early in the morning and in the evening. Give them a safe distance and do not offer them any food. Wild animals need to develop hunting instincts. Many animals perish after tourist season ends and they no longer have food readily available to them if they haven't learned how to hunt for their own food.
3. Squirrels. Not too many people think squirrels are a problem. Campers might offer breadcrumbs or snacks to get these cute critters to come closer. Squirrels carry disease and they bite. When campers get close, or try to get squirrels to eat out of their hands, they often suffer squirrel attacks. These animals have sharp teeth. Squirrels may also be transmitters of bubonic plague, carried through fleas that live on them. Squirrels live in a wide variety of habitats and can be seen almost anywhere.
"Wildlife is called wild for a reason," says Scott Beaudry of Beaudry RV Company. "It is every camper's responsibility to respect these animals while observing them in their natural habitat. Feeding animals endangers campers and the animal's survival. As you travel, watch the animals from a distance. Give them some space and enjoy their beauty!"
Beaudry RV Company has been a leader in the RV Industry for over 40 years. Their customer service, parts department and summer events set them apart from other RV companies.
For more information on new and used RVs and Beaudry RV Company or current trends in the industry contact:
Scott Beaudry
Company: Beaudry RV Company
http://www.BeaudryRv.com
Phone: 520-239-5054
Email: info(at)beaudryrv(dot)com
# # #