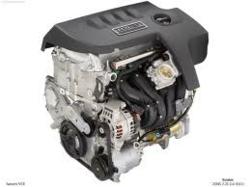 The entire company inventory is now available using this system as well as the company toll-free ordering system put in place last year.
Columbus, Ohio (PRWEB) May 09, 2013
The development of the Saturn brand as a GM variant helped to distribute this vehicle series around the world. The 20 years of production by General Motors produced consumer confidence in the vehicles manufactured. The EnginesforSale.org company is a leading preowned motors seller online. This company has now discounted all sales made from its used Saturn engine inventory. The discounts applied to these 1.9 and other edition motors can be located online at the http://enginesforsale.org company website.
The Saturn brand of vehicles helped to introduce the 1.9 displacement motors created by GM. This engine was used for the entire duration of production as well as larger engines to provide more horsepower options. The termination of the Saturn brand from the GM inventory has caused some shortages in supply around the United States. The increased stock and lowered pricing that is now found online is designed to provide the inventory options that can be hard to locate from some retailers.
The EnginesforSale.org company now provides an easier method to obtain pricing for any in stock motor. A new quote system was introduced to engine buyers this year and remains one of the popular tools to use on the company website. The updates now made to this system are helping to provide faster pricing and searching for in stock motors. The entire company inventory is now available using this system as well as the company toll-free ordering system put in place last year.
Warranties for preowned motors can be one of the most difficult elements to find included with an engine sale. The variety in warranty lengths can complicate the research process for some buyers. Through warranty policy updates, this company is now providing better terms of coverage for each engine sold. The up to two years of protection that is now provided has been created to extend the lifespan of the preowned motors distributed to customers. These warranties do not increase the selling price of each engine.
About EnginesforSale.org
The EnginesforSale.org company is one of the few discount resources to find preowned engines on the Internet. This company has built its inventory of motors from Ford, Chevrolet, Chrysler and import automakers over the past two years online. The online resources now provided for engine buyers are helping to expand the company sales volume. The EnginesforSale.org company supplies warranty policies with each engine sold to extend the natural life of the preowned engine inventory distributed to buyers in North America. The low pricing and other options provided by this company are frequently monitored for success.