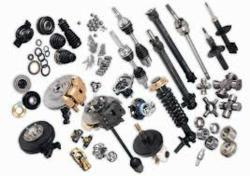 The used Scion OEM parts added online for sale are expected to provide a better price point for vehicle owners, mechanics and additional buyers of parts.
Pittsburgh, Pennsylvania (PRWEB) June 21, 2013
The Scion brand was introduced by Toyota and is now imported in the U.S. Replacement parts for these vehicles are traditionally purchased by buyers using Toyota dealerships. The AutoProsUSA.com company is now creating more opportunity for buyers to purchase parts replacements for lowered costs. The used Scion OEM parts added online for sale are expected to provide a better price point for vehicle owners, mechanics and additional buyers of parts at http://autoprosusa.com/scion-oem-parts. A trusted group of third party suppliers now distributes all parts that are searchable through the Auto Pros company webste online.
The 2002 creation of the Scion brand has expanded Toyota production in North America. More dealerships now exist to sell this brand of economy cars to consumers. Vehicles under warranty terms could be protected for parts replacements when OEM failures or breakdown occurs. Preowned Scion vehicle owners could struggle to find reputable parts companies when problems exist.
The Auto Pros USA inclusion of the preowned OEM Scion components online is part of an import automaker increase for available parts started this year. Multiple brands in the Toyota lineup now exist for parts purchases.
"Preowned parts can be valuable when purchased from a resource that offers warranty protection," a source from the AutoProsUSA.com company added. Used parts can often have excess wear and deterioration that could cause a premature breakdown or interruption of use. The dealers and suppliers now providing the inventory listed in the company database ensure that warranty policies are included for each part type ordered and completed in processing. "These warranties are part of the incentives that customers find when doing business with our company for preowned parts," the source added.
Aside from the OEM parts for Scion vehicles, additional exterior parts inventories can now be searched through the database of available parts. Side mirrors are offered for Toyota including the Scion brand to consumers.
A news release was recently published at http://www.prweb.com/releases/used-scion-tc-side-mirror/used-mirrors-toyota/prweb10774360.htm to provide information about current pricing and ordering details to parts purchasers. This growing side mirror inventory is creating one resource that buyers can depend upon to locate these exterior auto parts without requiring dealership service agreements.
New auto parts supply companies or established businesses interested in listing available parts online for consumers through the Auto Pros company can submit a request for review by using the company contact information. A toll-free number is dedicated to business-to-business requests and can be accessed by using the following information:
Auto Pros USA
1270 Crabb River Rd.
‪Richmond, TX 77469
(888) 230-1731
(713) 560-7017
About AutoProsUSA.com
The AutoProsUSA.com company is a growing secondary market resource to find discounted replacement parts for trucks, SUVs, hybrid, luxury, performance and passenger car vehicles online. A freshly designed website and database now greets parts researchers hoping to find vintage and newer style auto parts through this company. The AutoProsUSA.com company updated supply chain includes hundreds of secondary sources that keep the database of parts listed online accurate with pricing and stock status information. The toll-free telephone number and quotation methods that are offered to consumers online serve as primary methods of contact.