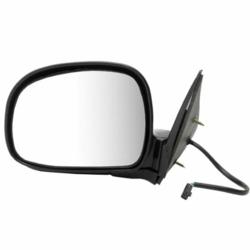 These genuine mirrors are in preowned condition and taken from gently used vehicles.
Salisbury, Maryland (PRWEB) May 29, 2013
The Toyota Scion TC was developed in 2004 and has remained part of the vehicle lineup sold inside the United States. This sport compact vehicle requires OEM parts for replacement and these can be hard for some buyers to find. The AutoProsUSA.com company now supplies used Scion TC side mirror inventory for reduced prices. These genuine mirrors are in preowned condition and taken from gently used vehicles. The discounts applied can be researched at http://autoprosusa.com/used-scion-tc-side-mirrors-for-sale. This reduced price inventory is now found in the Toyota section of the warehouse inventory online.
The manufacture and sale of sport vehicles has created demand in North America for upgrade parts. Some automakers license aftermarket parts production to help produce replacement parts for vehicle owners. Toyota parts vary in aftermarket condition and many buyers seek to find genuine parts when replacing a defective or broken unit.
Because most parts are distributed by dealerships, used vehicle owners can have difficulty using local resources to find needed parts like mirrors, spoilers and other components. The Auto Pros company created its parts resource for use as one alternative to find parts in preowned condition at discount prices.
The import inventory at the Auto Pros USA company now holds some of the most requested parts from top automakers. The Toyota, Honda, Nissan and Subaru inventory offered for online sale is helping owners of vehicles to find parts without the high MSRP pricing. The opening this year of the performance parts inventory has created new ways buyers can locate multiple part types with a single online search.
The news release at http://www.prweb.com/releases/performance-auto-parts/auto-parts-online/prweb10504944.htm was the first announcement provided to the public for the launch of the performance brand of parts now sold online. These parts continue to be updated as new parts are added.
The price delivery system installed on the company website is now used as a primary way to locate immediate parts pricing. Online quotes are now distribute to buyers in order to find the lowest pricing possible for import and domestic parts online. One of the unique features of this new system is the multiple supplier quotes that are provided. Agreements with suppliers makes it possible for more than one price quote to be generated upon request by buyers. Having more than one price to compare when purchasing auto parts is now helping buyers find more affordable pricing and additional incentives offered.
The Auto Pros contact information has recently been updated to include the new toll-free number now available for parts inquiries and general questions about pricing or delivery. Salvage companies, junkyards and other suppliers interested in an affiliate program with this company can use the following information for contact:
Auto Pros USA
1270 Crabb River Rd.
‪Richmond, TX 77469
(888) 230-1731
(713) 560-7017
About AutoProsUSA.com
The AutoProsUSA.com company launched its auto parts resource for automotive parts buyers to use online as one solution to find affordable pricing. This company constantly develops new supplier agreements in order to provide faster shipments and better for fulfillment to parts customers nationwide. The company staff personally assists buyers online and by the toll-free number with parts questions and other information upon request. The AutoProsUSA.com company developed its online database to provide access to thousands of preowned auto parts ready for sale and immediate shipment in North America.