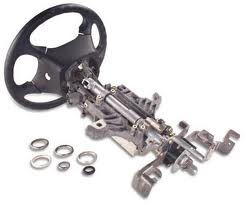 These preowned assemblies are now sourced from automotive wholesalers providing better pricing and fulfillment.
Columbus, OH (PRWEB) June 21, 2013
Every motor vehicle produced since the creation of the automobile uses one key component to provide reliable control for drivers. The steering column and wheel assembly are two essential parts that are not easy to find through standard parts retailers. The Auto Pros USA company has now included used steering columns for sale online at http://autoprosusa.com/steering-columns-for-sale.
These columns are taken from OEM installations to offer an error-free installation for vehicle owners. These preowned assemblies are now sourced from automotive wholesalers providing better pricing and fulfillment.
The steering column used in modern automobiles provides a complete control center for vehicle stability and startup options. Every ignition system is attached to these columns and some now include electronic sensors that provide anti-theft capabilities.
The complete assemblies now sold to the public online are offered for discount prices due to the supplier arrangements that have been created with auto parts companies. These columns are preowned and examined for quality prior to a customer fulfillment. These extra measures are helping this company to produce higher quality parts for resale.
"The weight of a column assembly can make these difficult to ship from some sellers online," a source representing the Auto Pros company added. Many auto parts companies do not include costs for shipping in a quotation. Buyers are typically responsible for paying the cost of freight from one state to another. "We help negotiate low pricing and freight incentives for our customers to provide free or low cost shipments when available," the source added.
These freight incentives can be sourced using the quotation method now preferred by buyers on the company website. This automatic price generation method can be used alongside the toll-free telephone number for information.
The steering assembly upgrades added to the online inventory are in addition to power steering pumps and equipment included last month. These essential undercarriage components can now be purchased for a lowered retail price.
The news published online at http://www.prweb.com/releases/used-power-steering-pumps/power-steering-parts/prweb10651310.htm is one recent method used by this company to educate consumers about the current inventory available and pricing charged. Frequent additions to the supply chain are helping to increase the types of parts currently available for resale online.
Secondary market companies that are able to provide preowned auto parts and entry-level warranty policies are encouraged to make a formal request to the Auto Pros USA company for inclusion inside of the database online. Updated contact information now includes the local and toll-free telephone numbers for immediate contact at:
Auto Pros USA
1270 Crabb River Rd.
‪Richmond, TX 77469
(888) 230-1731
(713) 560-7017
About AutoProsUSA.com
The AutoProsUSA.com company employs a complete team of automotive experts assisting customers inside all parts of the United States. Parts wholesalers are used by this company to showcase available parts to buyers unable to purchase replacement parts from some retailers. The expertly programmed database now listed online is one way customers find pricing and warranty information for all parts in stock. The AutoProsUSA.com company representatives negotiate parts listings online with secondary suppliers able to fulfill shipments for parts customers as orders are placed. Customers use the online quote method and toll-free telephone number for immediate informational resources.