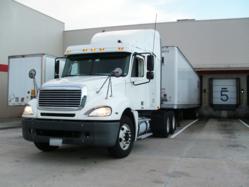 The same day shipments are scheduled to take place effective immediately and designed to cut the standard shipping time by approximately 50 percent.
Pittsburgh, PA (PRWEB) May 04, 2012
Used transmissions are shipped to every city and state in the U.S. each day although the average person is likely unaware of this action. Just like food products and construction supplies, buying a used transmission in one state and shipping it to another takes a coordinated effort between sellers and freight companies. A new agreement to ship out used transmissions was reached today at http://www.gottransmissions.com. This used transmission retailer has selected two large corporate carriers to handle same day shipments for Ford and Chevy transmissions. The goal of this new agreement and business partnership is to reduce delays during the transportation process from city to city. The same day shipments are scheduled to take place effective immediately and designed to cut the standard shipping time by approximately 50 percent.
Businesses that ship standard household products, pet supplies or other low weight items typically can do so through common freight carries like UPS or FedEx. Automotive, van and truck transmissions can often weigh hundreds of pounds and easily surpass the capability of standard freight delivery companies. "Our decision to go with long haul freight companies was not solely a logistics decision," said Mike Rohn, Business Consultant at GotTransmissions.com. "We feel that increasing our delivery times and stepping up shipment safety will benefit us and our customers equally although this comes at an increased cost for us," Rohn added. The long haul freight business is profiting in part due to companies shipping more heavyweight items in bulk loads to regions encompassing the entire U.S.
A recent April 2012 analytics report released by J.D. Power and Associates showed that new sales of Chevrolet and Ford vehicles slipped 8 percent and 5 percent respectively compared with sales in April of 2011. The sales of used vehicles have surged keeping pace with rising gasoline prices and the push for consumers to own better fuel economy vehicles. For online sellers like GotTransmissions.com, the increase in used vehicle sales often translates to a busy spring and summer as repairs and swaps are often completed during this period of time. The signing of the new freight agreement and same day shipping is projected to easily meet the demand of used vehicle owners, mechanics and dealerships that will be replacing Ford and Chevy transmissions now and throughout the remainder of 2012. 
About GotTransmissions.com
From modest beginnings started at a call center to multimillion-dollar warehouses, GotTransmissions.com has never lost sight of providing customer service or forging new business relationships. First started in 2007, this used transmission dealer has slowly built its customer base of body shops, junkyards and warranty repair centers to become one of the largest sellers of transmissions of Ford, Chevrolet, Dodge, JDM and Toyota on the Internet. An entire team of automotive experts works closely with business and non-business clients to ensure overall satisfaction and standards of quality are met.