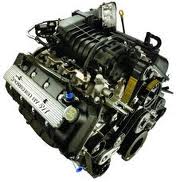 The new stocking of the truck motors is one way that this company is providing an expert resource on the Internet for I4, V6, V8 and V10 editions for sale.
Beaumont, Texas (PRWEB) February 05, 2013
Pickup trucks have remained an alternative choice for auto buyers for decades in North America. From light to heavy-duty use, many of these vehicles are able to receive high mileage before problems happen. The EnginesforSale.org company is now offering used truck engines for sale for the Ford and Chevy models. These include the base Vortec from General Motors and the Essex and Triton for Ford Motor Company. More information can be found online at the enginesforsale.org website.
An engine replacement can be required for a number of reasons. Apart from mileage, OEM parts that help makeup the inner workings of these units can fail at once or one part at a time. It is common for a used vehicle to go through several engine repairs if routine maintenance is not performed at specific intervals. The new stocking of the truck motors is one way that this company is providing an expert resource on the Internet for I4, V6, V8 and V10 editions for sale.
New improvements have been announced recently at the EnginesforSale.org company. One of the first programs announced this year was a new freight-free policy for the current inventory. This new policy has helped to offer a cost saving solution for individual buyers as well as companies purchasing for shipment on behalf of a customer.
The current freight policy ensures that all shipments are processed instantly upon submission and there is no delay in the delivery period of shipments made inside of the USA. One update to this new policy now comes in the form of a longer lasting warranty.
The preowned automobile industry is known partly for affordable priced units and the lack of sufficient warranty coverage. The term limitations that are provided by some retailers have complicated the process of receiving help if a problem exists after engines are installed. The new warranty policy now ensures that all customers purchasing any of the company stock receive a longer coverage period.
This change is due in part to partnerships with industry suppliers that are able to send lower mileage variants in place of the traditional higher mileage editions.
The recent announcement for the company redesigned website and launch for customers has helped distribute the offerings that are now available to customers. New improvements are expected to be installed on this website during the course of this year. The announcement for the launch can be read online by following this link http://www.prweb.com/releases/engines-for-sale-company/expands-ford-chevy-dodge/prweb10036149.htm.
About Engines for Sale Co.
The Engines for Sale Co. has grown since joining the ranks of other sellers in the preowned engine business online. As an offline company, decades of selling and distributing engines have helped to position this company as a respected supplier. The new online reputation being built is allowing more buyers from different U.S. states to experience the large inventory and incentives offered with each sale. The Engines for Sale Co. now supplies its new protection with all sales due to the changes in the warranty policy to raise the amount of customer assurance in each unit that is sold online and offline.