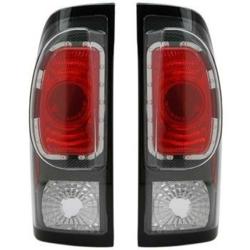 The AutoProsUSA.com resource online is filled with hundreds of suppliers that range from junkyards to salvage suppliers across the country.
Oklahoma City, Oklahoma (PRWEB) June 01, 2013
Parts and accessories for standard automobiles are typically purchased through chain retailers in most parts of the country. Due to the variety of pickup truck manufacturers, these parts can be hard to locate when not purchased from automotive dealerships. The AutoProsUSA.com company has created a resource for pickup truck owners to use online to find parts and accessories. This company is now adding used truck tail lights for direct sale to owners of trucks, mechanics and other parts buyers. These parts are now added for introductory low pricing and can be viewed on the company website at http://autoprosusa.com/used-tail-lights-for-sale.
Names like the F150, Silverado, Ram and S10 have helped to increase the popularity of the truck market. The engineering and engine development produced by automakers had lead to better manufacturing and vehicle longevity. The production of aftermarket parts is one way that some companies provide a like-new replacement part when OEM parts cannot be found. Not all truck types have aftermarket parts and require originals for replacement.
The tail lights now added for sale online are part of the genuine pickup truck additions to the Auto Pros inventory for sale. This company has built one the largest pickup truck replacement parts inventories currently listed on the Internet.
One of the strategies now in use by this company to provide better inventory to buyers purchasing parts is the expanded relationships with suppliers and distributors in North America. Instead of relying on a handful of companies to supply parts, The AutoProsUSA.com resource online is filled with hundreds of suppliers that range from junkyards to salvage suppliers across the country.
These suppliers are able to distribute quality parts, and low pricing is maintained through consistent inventory upgrades. The expanded supplier network created by this company has directly helped the pickup truck inventory as well as car and sport utility vehicle parts now supplied.
To go with the new parts added for sale, a policy for warranty protection has been established. The company inventory of pre-owned parts includes parts with varying levels of age and condition. The agreements with suppliers and distribution companies have made it possible to negotiate a warranty inclusion with each purchase. Buyers now purchasing from the Auto Pros USA company now take advantage of the parts warranties that are included. Every part includes a standard level of warranty protection upon purchase as a new incentive for buyers.
About AutoProsUSA.com
The AutoProsUSA.com company constructed its business model to provide discount auto parts to buyers in North America for foreign and domestic automobiles. This company has hired its talented staff of automotive specialists currently providing the support buyers require online and through the company toll-free number. This company now lists its preowned inventory of parts online ready for direct sale. The AutoProsUSA.com company features new tools on its website to make parts ordering and research faster. The company search and quotation tool now provides easy price acquisition and review for any part in stock. Daily quote system updates keep all company information accurate.