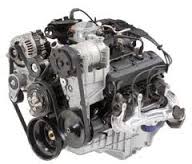 This company expansion is now one strategy in use to provide better sources to find replacement motors aside from purchasing strictly from dealerships.
St. Louis, Missouri (PRWEB) May 23, 2013
General Motors invests into technologies annually that help to expand the engine development for cars, SUVs and pickup trucks in the lineup. The creation and further expansion of the Vortec series has helped GM auto owners to benefit. The EnginesforSale.org company launched its online platform to purchase engines and is now selling used Vortec engines for trucks and SUVs online. This company expansion is now one strategy in use to provide better sources to find replacement motors aside from purchasing strictly from dealerships. These motors can be located online at http://enginesforsale.org/chevy/used-chevy-silverado-engine.
The Silverado, Blazer, Tahoe and other vehicle brands have made used of the Vortec engine series. The displacements ranging from 4.3 to 5.7 were used to expand the horsepower available during use. While these engines are no longer in production, the secondary market is now one source buyers used to locate replacements.
Preowned engines can be paired with higher than standard mileage due to age and general use. The motors that are now added online by the Engines for Sale Co. have been evaluated before acquisition and are some of the lowest mileage units that currently found for sale online.
The protection that is offered to vehicle owners for breakdown coverage is usually found in an automotive warranty. The length of warranties can change depending on the source used to purchase a vehicle. A lack of coverage could be found from some sellers providing used motors to the public. The EnginesforSale.org policies have been updated this year to expand the coverage amounts for Ford, Chrysler and GM engines sold to buyers.
A new range of up to three years is now placed into each warranty policy packaged with all engine sales. The cost for this protection is included in the selling price of each engine.
The domestic inventory of engines carried by this company is one phase of inventory increases undertaken this year. The sales of import vehicle engines continues to be strong and new motor types have been acquired and listed for sale online. The news release published at http://www.prweb.com/releases/used-import-engines-sale/used-motors-on-sale/prweb10655043.htm is the first announcement for the second quarter of this year to inform all engine buyers of the preowned import units that are now for sale. More changes to the inventory available are expected to be announced to buyers this year to improve the online offerings.
About EnginesforSale.org
The EnginesforSale.org company discounts its inventory of motors online to provide buyers with lower prices for some of the most common displacements available. The additions to the company import and domestic engines inventories made this year has expanded the types of motors that can be purchased and shipped in the U.S. The incentives like warranties, faster shipments and expedited order processing have made it possible for the EnginesforSale.org company to reach a larger source of buyers. The upgrades to the company database online are helping buyers to compare immediate pricing from this company and other competitors in the secondary market engines business.