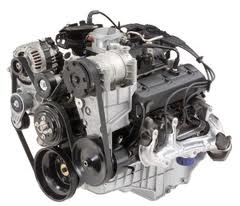 A recent update now makes it possible for buyers to search the company pricing as well as top competitors in the industry.
Canton, Ohio (PRWEB) April 23, 2013
General Motors has produced more than one engine family in the past 25 years that has topped best-selling engine lists. The creation of the Vortec series Generation III motors in the 1980s helped set the pace for GM production through the 1990s. The MotorUniverse.com company is now a leading resource to find replacement motors and is now selling used Vortec engines online. These motors can be viewed and compared for low pricing at http://motoruniverse.com/chevy-motors-for-sale.
The Vortec family of engines includes some of the most used engines in the GM lineup. The creation and use of the 4.3 V6 helped to provide power and performance in the minivan series in the Chevy and GMC brands. The 5.3 V8 edition and the 5.7 have provided more choices for vehicle owners to receive the most power possible.
Locating these motors through secondary market sellers can be difficult without researching multiple companies. The Vortec motors now for sale online provide low mileage units and expected longevity after install.
The Motor Universe company is one example of a preowned retailer that has expanded its business online. The sales made offline to trade industry buyers helped provide the online foundation required to reach buyers in all 50 states. The advancements made by this company this year includes better warranty coverage for all in stock motors.
This new level of protection is offered with no additional increase in price when engines are sold and shipped. This level is providing up to two years of protection compared with a limited warranty from another dealer.
Because the company database is now linked online, multiple price variations can be found using this new system. A recent update now makes it possible for buyers to search the company pricing as well as top competitors in the industry. These local and national price comparisons are helping more engine buyers locate the right price for a replacement motor without negotiations. These efforts represent some of the advancements that have been integrated by this company this year.
About Motor Universe
The Motor Universe company has led the secondary market offline as a top engine provider for decades. This company created its online resource in 2012 to start supplying buyers in more areas of the United States. The installation of the database tool online is now allowing buyers to search the company offerings for pricing and stock levels easier. This new company addition is helping to raise the amount of engines shipped in the current year. The Motor Universe company frequently lowers its pricing and attaches incentives with each customer sale to ensure all buyers receive a positive experience when buying preowned engines.