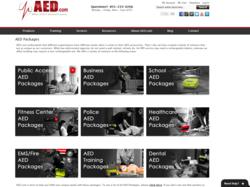 Brentwood, TN (PRWEB) November 21, 2012
Customers understand that when it comes to their needs, there is no such thing as "one size fits all." AED.com has developed customized packages that include items such as AED wall cabinets, batteries, program management, and several other important items needed for use with an AED. The AED packages are available online at AED.com, which makes it much more convenient for the customer who is ready to purchase an AED, yet isn't quite sure which AED accessories would best suite their facility needs."We've received numerous compliments from our customers who greatly appreciate the ability to bundle an AED with a myriad of essential accessories," said AED.com's sales manager, Matt Jennings.
With an extensive customer base that numbers over 20,000, creating packages tailored to each customer's facility made sense. "AED.com understands that each organization has unique and different needs," said Jennings. "Our customized AED packages are available to a broad range of industries including: businesses, schools, public access, dental EMS/Fire, healthcare, fitness centers, police, AED training facilities, and more." Not only do customers have an easier way of ordering their life-saving equipment, but they also save when they purchase the AED package.
For more information, please call (855) 233-0266 or visit http://www.aed.com/.
AED.com is headquartered in Brentwood, TN. AED.com's parent company, DXE Medical Inc. was founded in 1999 and provides services to over 20,000 customers in all 50 U.S. states and 35 countries worldwide. For more information, please visit: http://www.aed.com/