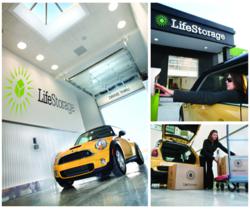 Libertyville, IL (PRWEB) May 17, 2012
LifeStorage, Chicago self storage provider for home and business, records management and office solutions, is holding its Third Annual Miles Of Cars Event at LifeStorage Libertyville, located at 700 E. Park Ave., between Milwaukee Avenue and I-94 on Route 176. The three-day event runs on Thursday from 9am-9pm, Friday from 9am-9pm, and concludes on Saturday from 9am-6pm. 10 local dealerships will have over 2,100 used vehicles for sale, with a no-haggle, no-hassle approach to selling and buying, with reduced selling prices clearly marked on the front window tag of each vehicle. Interested parties can attend the event and drive off in a new vehicle the same day, with lenders on site to approve loans, and most paperwork handled right at the event.
LifeStorage Libertyville Store Manager Marc Polizzi is excited to be able to help out community businesses for a third-consecutive year and to spread the LifeStorage brand through hosting such a huge event. "When the dealerships initially wanted to host this event, they were looking for the perfect place. Our location is close to the dealers, we have a huge parking lot and front lawn, and our indoor office area provided everything they were looking for, and drives home that LifeStorage really is a place for everything."
"Also, by hosting the event, we're getting even more exposure and interest through the radio and print promotion, and this gives us the opportunity to show the visitors our products and features that make our storage facilities the best in Chicagoland. In addition, we always offer open arms when it comes to helping the local community and its businesses," Polizzi said.
This event is a way to support local businesses that in turn help contribute to the community in a variety of ways. As Polizzi puts it, it's a "funnel effect." Most of the local dealerships provide many types of sponsorships, fund raising, and charity donations. That money goes to local organizations and schools throughout the year. Buying cars from the local community keeps them in business which keeps them donating, and the money stays local.
"We've had such a great turnout the past two years, everyone went home with what I call the positive 'Wow' Effect. 'Wow – what a great deal on newer, pre-owned cars' and 'Wow, I didn't know a self-storage facility looks so nice on the inside and offers such a great value.' I expect this year will be another huge success and I'm looking forward to 9am on Thursday," Polizzi said.
For more information about the Miles Of Cars Event, please contact LifeStorage Libertyville at 847-367-0001, or one of the 10 participating dealers.