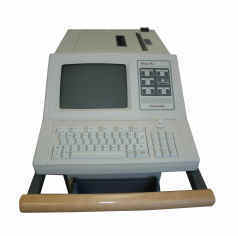 San Diego, CA (PRWEB) July 30, 2008
Medical Machines Online is happy to announce the new release of a refurbished EKG Machine, the Marquette MAC VU Interpretive EKG Machine. This fantastic system is one of many used EKG machines available online, and it is a practical solution for clinicians at smaller hospitals, clinics and physician offices.
With electrocardiography, there has always been an artistic element to the diagnosis. Doctors and clinicians combine their knowledge of the medical science with an intuitive approach for diagnosing and treating heart patients. This Marquette MAC VU Interpretive EKG Machine will benefit the clinician who practices the art of electrocardiography. And because it is refurbished, it is a fraction of the cost of a brand new EKG machine. This kind of solid performance and price point is ideal for smaller offices or clinics that want to have the best medical equipment for patient care, but don't have an infinite budget.
The brilliance of this advanced system is that it gives clinicians the flexibility to effortlessly meet the EKG needs of any patient. You can enter the patient's age, and this Marquette MAC VU will automatically switch between adult and pediatric criteria. You can have a complete EKG with analysis in seconds after that last lead is connected. This system includes standard vectorcardiography and a 15 lead pediatric report. The high resolution CRT is equally visible under direct lighting or in darkened patient rooms, and the standard battery conveniently allows you to record EKGs without the nuisance of locating a power source. With this versatile piece of used medical equipment, you will also have options for late potential analysis, pharmacologic stress reports, exercise testing, fax transmission and modem communication. It also comes equipped with a variety of modem configurations, giving it the ability to communicate with MUSE® cardiology management systems, other MAC system electrocardiographs, and standard fax machines.
This quality used EKG machine is one of many new and used medical equipment pieces on the Medical Machines Online website: medicalmachinesonline.com. Medical Machines Online is proud to offer this durable and practical EKG machine, the Marquette MAC VU Interpretive EKG Machine, and many other fantastic medical equipment pieces. As the demand for quality new and refurbished medical equipment rises, the quality and selection offered by medical equipment and EKG machine specialists should meet the demand with zeal!
About Medical Machines Online:
Medical Machines is the online shopping source for everything in new and used medical equipment. They offer a fantastic selection of all the best brand names in medical equipment, including Nihon Kohden, Burdick, Schiller, Welch Allyn, Cardioline, General Electric, Bionet, Dr. Lee, Fukuda Denshi, Brentwood/Midmark, Mortara, Philips, QRS and more. With these great names, we hope you can find the perfect new and refurbished EKG/ECG machines, patient monitors, dental equipment, defibrillators, bone densitometers, blood analyzers, pulse oximeters, ultrasound machines and stress test EKG's for your little corner of the medical community.
###