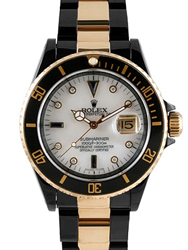 Los Angeles, California (PRWEB) March 25, 2014
Certified Timepieces has recently announced that the Men's Two Tone Champagne Diamond Dial Rolex Daytona 90s will be offered as the "Deal of the Day".
For buyers who are unfamiliar with the model, this pre-owned Rolex Daytona boasts an original mechanical and automatic winding movement. It's stainless steel case is 40mm in diameter and it has a custom 18k yellow gold and stainless steel bracelet that weighs 75 grams. This Daytona watch also has an original sapphire crystal and custom 18k yellow gold tachymeter bezel. The fact that it is categorized as like-new and in excellent working condition makes it a steal at $14,000.
The Rolex Cosmograph Daytona was introduced in 1963 and specially designed and engineered to meet the demands of professional race car drivers. Because it has a tachymetric scale, it lets drivers precisely measure average speeds of up to 400 kilometers or miles per hour, depending on which setting they prefer. Should the buyer choose to purchase the Men's Two Tone Champagne Diamond Dial Rolex Daytona 90s through Certified Timepieces, they will not only be treated to a watch of the highest quality, but also to the following:
1. Certificate of Sales & Authentication
Certified Timepieces will be happy to provide an official certificate of sales and authentication. The company wishes to inform all potential clients that every luxury watch is authenticated by a team of in-house luxury watch brand experts before going on sale. Additionally, Certified Timepieces stands behind the authenticity of each piece that they sell. To give clients further peace of mind, Certified Timepieces ensures that each watch still has its original serial number intact.
2. Complete Warranty
Should buyers wish to take home the Men's Two Tone Champagne Diamond Dial Rolex Daytona 90s, they will be glad to know that Certified Timepieces is offering a complete 2-year warranty with it. In the unlikely event that the watch stops working, Certified Timepieces will exchange or fix it at no extra cost. All that the buyer has to do is to ship it back to Certified Timepieces' logistics facility using the company's UPS or FedEx account. The company's excellent team of specialists will take over and handle everything else.
3. Special Accessories
As the "Deal of the Day", the Men's Two Tone Champagne Diamond Dial Rolex Daytona 90s comes with a luxury watch box that is meant to comfortably house the luxury watch. Buyers should take note that this luxury watch box will provide sufficient protection to the watch especially during transportation from the logistics center to their doorstep.
The Men's Two Tone Champagne Diamond Dial Rolex Daytona 90s (SKU #520) is a deal not to be missed.
Price: $14,000
Bank Wire Price: $12,600
This leaves the buyer a total savings of $1,400 should they opt to pay via bank wire.
Besides the "Deal of the Day", Certified Timepieces is proud to offer thousands of other genuine pre-used Rolex watches. Authentic watches from Cartier watches, Rolex Datejust models to Rolex Submariner bestsellers, there is something for everyone at Certified Timepieces. To find out more, contact the company by heading to http://www.certifiedtimepieces.com.