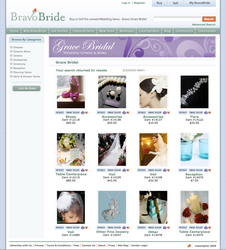 BravoBride.com has become the first-choice, money-saving destination for smart brides and cost-savvy newlyweds
Seattle, WA (PRWEB) August 5, 2009
BravoBride.com, the Web's go-to site for buying and selling pre-owned and discounted wedding items, announced today the launch of its BravoBride Boutique section. The site's new feature can be easily accessed by visiting BravoBride.com and clicking on the "Boutiques" button.
Known as the largest online marketplace for discounted wedding items from new and used bridal gowns to reception supplies, BravoBride's new Boutique section empowers vendors and multi-item sellers by significantly raising the profile of their posted items. The new Boutique section offers a high-impact, premium space for users to showcase and sell numerous wedding items.
"BravoBride.com has become the first-choice, money-saving destination for smart brides and cost-savvy newlyweds," said Susan A. Shapiro, the website's creator. "For BravoBride.com's sellers and vendors, the Boutique Section we're launching today brings an enhanced showcase to our popular online environment and buyer destination."
BravoBride.com offers a free and easy-to-use clearinghouse for new and used designer wedding dresses, favors, jewelry, accessories, reception items and more. Buyers and sellers log on to BravoBride.com, register for their free account and complete transactions directly with each other.
"As BravoBride.com's popularity and volume of transactions continue to spike, our goal is to provide buyers and sellers with the most user-friendly and user-effective online tools available," Shapiro said.
Through the site's new feature, signing up as a BravoBride Boutique allows everyone from wedding vendors to brides to showcase and sell their discounted wedding items. In addition to the discounted-price criteria, sellers at BravoBride.com who list more than 10 items, as well as all vendors, are asked to create a Boutique. All sellers can try out a Boutique for free and there are no listing or final sales fees.
Boutique section users can post any items that fit within the categories of: Pre-owned or Gently Used Item(s); New and Discounted Item(s); Sample or Discontinued Item(s); and Handmade and Discounted Item(s).
The new BravoBride.com Boutique Section provides several advantages for multi-item sellers and vendors seeking to boost future sales. With a BravoBride.com Boutique, sellers have their own Boutique domain/URL, create high-impact Boutique profiles, keep their items for sale together in one high online-traffic area and customize their Boutiques with eye-catching banners.
"Wedding item shoppers and sellers go to BravoBride.com for quality, variety, value and very special pricing," added Shapiro. "The BravoBride.com Boutique section we've launched is another empowering feature that results-oriented users have come to expect from our rapidly growing online wedding marketplace."
For more information and to view the newly launched Boutique Section, log on to http://www.bravobride.com and click on "Boutiques."
# # #