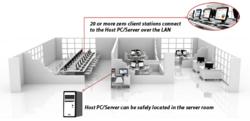 Userful Multiplatform is a game changing solution
Calgary, Canada (PRWEB) March 13, 2013
Userful, the global leader in zero-client cloud and virtual desktop solutions today announced the release of their next generation virtualization solution, Userful Multiplatform. This innovation comes after more than ten years of experience with close to one million zero-client stations currently in use. Flexible and cost-effective, Userful's multiseat computing solutions have proven their worth in education, hospitality, and business applications around the world.
Userful Multiplatform is a simple and low cost solution for deploying cloud (browser only), Windows, and Linux desktops using zero-client devices. Userful Multiplatform meets today's demand for flexible and robust computing, allowing IT administrators to dynamically offer each user their choice of Windows OS, Linux OS, or cloud desktops. Organizations can save on VDI licenses by deploying cloud desktops for users using web applications, or Linux desktops for users that are using Office applications or other Open Source applications. Userful Multiplatform enables users to easily transition from Windows to Linux, or to cloud desktops, or connect into legacy applications using remote protocols such as RDP.
IT administrators can deploy 20 or more zero-client stations using only one host PC or server. Ethernet connection allows administrators to place stations at any distance within the local network. Userful Multiplatform has twice the performance of other solutions on the market: one traditional PC with a Core i7 processor and 16 Gig RAM can power 20 independent, 720p full screen videos. Userful Multiplatform lets customers set-up virtual desktops in hours, instead of days, and includes options such as automated failover, remote access, and unparalleled video and multimedia performance.
"We believe that Userful Multiplatform is a game changing solution that will bring cloud and virtual desktops to organizations that lack the budget or technical resources to implement other desktop virtualization solutions," says Userful's Chief Technology Officer, Tim Griffin. "With zero-client devices and Userful Multiplatform, we bring to the market a simple and cost-effective cloud and virtual desktop solution with advanced features such as automated failover."
Cost, complexity, and performance with rich multimedia, have traditionally been obstacles to adopting virtualization. Userful recognized a significant gap in the global market for a low-cost, simple virtualization solution that could be used in businesses and schools. "Organizations will save on hardware and operating costs while deploying a flexible desktop endpoint that enables them to stay up-to-date with technology innovations," says Alan McNaughton, Userful's President. "When the time comes to upgrade, administrators just need to replace the server, while the zero-client devices can last 10 years. Userful is compatible with zero-client devices manufactured by major brands like HP, Acer, LG, Asus, Atrust, and ViewSonic."
With the demand for computing flexibility growing worldwide, Userful gives IT administrators extensive control and flexibility. They can efficiently deliver Windows, Linux or Cloud desktops to any zero-client endpoint device within the network without being locked into a specific protocol, operating system, or endpoint device, all while keeping IT infrastructure costs down.
Notes: Userful Multiplatform includes out of the box support for a broad range of zero-client devices from a range of manufacturers including: HP (t200/t150/t100), Atrust (M200/M202/M220/M300/M302/M320), Acer (M302/M320), Asus (Z5), Phistek (ZE5000/ZE6000/P150ERP), ViewSonic (VMA10/VMA15/VMA20/VMA25), Thinglobal (MiniPoint), and Goodway (DU2600).
Please check this video for more information about Userful Multiplatform: http://www.userful.com/products/userful-multiplatform
Userful Multiplatform™ software is available for download here: http://www.userful.com/products/downloads
About Userful
Userful is a world leader in zero-client software and cloud managed desktop solutions, with over ten years of experience in multiseat and desktop virtualization solutions. Userful is the trusted provider of cloud-managed zero-client computing software with close to one million seats of its solution sold, and millions of daily users in over one hundred countries. In the education sector, Userful is the software powering the world's largest digital inclusion effort in Brazil. The company's software, which turns one computer into many workstations, lowers capital and operating costs, improves manageability, reduces electricity consumption and e-waste. More information is available at: http://www.userful.com.