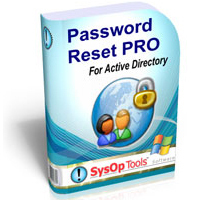 Los Angeles, CA (PRWEB) July 21, 2009
SysOp Tools, Inc. today announced that a major Kentucky College System has chosen their Password Reset PRO self service software solution for deployment to all student and faculty users. The Kentucky Community and Technical College System (KCTCS) provides learning excellence to residents through 16 Community and Technical Colleges with 67 Campus locations State-wide, and relies on Microsoft Active Directory Services as the core component for user account security and access authentication. With more than 270,000 users accessing their diverse and highly secure campus systems, KCTCS regularly received large volumes of Help Desk calls regarding forgotten / expired user passwords and locked-out user accounts. They were in desperate need of an easy to deploy solution that would increase productivity by empowering users to self-service password and account related issues.
Project Scope:
KCTCS requirements for the self service solution were very specific: The solution must be very easy to use, must scale to meet their massive user base of 270,000 domain accounts, must look like an internal system instead of a "3rd party product", and must pass external compliance scans. Of added concern to KCTCS, the solution must not require schema modifications or client software agents, must not store sensitive user data or passwords in external databases outside of Active Directory, and must not place sensitive administrator functions directly in the external Web Portal. After testing and ruling out several currently available self service products, KCTCS discovered the ideal solution with Password Reset PRO from SysOp Tools.
"Password Reset PRO has allowed our users to enroll for password self-service management with a highly secured, easy to use Web interface that is accessible to them at any time. Users are able to self-service their password needs without help desk intervention, allowing them to gain access to KCTCS systems faster, regardless of their location," says Tony Eversole, KCTCS Project Manager, "Password Reset PRO is easy to use and manage, yet robust enough to meet our strict security standards and regulations."
Kurt Lewis, President and CEO for SysOp Tools added, "Password Reset PRO provides a true easy-to-deploy-and-use Self Service Web Portal for user password management. Our product is specifically designed to address real needs of modern Help Desks, IT departments and end users. We are pleased with the success that KCTCS has achieved with deployment of our product, particularly given the fact that their Windows domain environment is so large and diverse. It is an excellent testament to the power and efficiency of our latest enterprise software solution."
To further enhance ROI for KCTCS, Password Reset PRO's intelligent features also include:

Wizard Driven Activities: The Self Service system automatically directs users to the appropriate Web Portal activity based on status of their account or password.
As-Is Technology: Uses your Active Directory as-is and stores user enrollments directly under each user account, existing AD schema fields are used without modification.
No-Loss Technology: Enrollments are stored safely within Active Directory. Should you lose the entire Password Reset PRO server, simply re-install software and all existing enrollments are immediately available.
IP-to-User Identity Tracking: Resolves IP of client browser visiting the Web Portal and maps it to user's AD account, aiding resolution of network and security issues instantly.
Change Control Friendly: Minimal installation footprint and requirements ensure deployment approval within the most secure environments. No changes to schema, DCs, databases or client software is needed.
Deployment Tracking and Reporting: Comprehensive Reporting Console shows password update information for each user, enrolled status, users not yet enrolled, user accounts excluded from enrollment, and history of Web Portal events.
Automated Daily Report: Each day a 24hr rollup summary of events is emailed to the Administrator.
About Password Reset PRO:
SysOp Tools markets Password Reset PRO globally through resellers and direct website sales, and provides direct product assistance to potential and existing customers via an in-house staff of experienced Active Directory engineers. Password Reset PRO is the industry's first password self service software that provides easy installation by using your existing domain as-is, provides simplified deployment and user management via an intuitive Reporting Console, is designed with perimeter security in mind and maps client IP addresses to user account identity (IP-to-User) for enhanced security auditing. User password reset / change activities within the Web portal are guided by Wizard Driven processes making it easy to use for tech-challenged users.
About SysOp Tools, Inc.
SysOp Tools addresses the growing need for more intelligent and intuitive Active Directory management solutions. SysOp Tools makes easy to deploy products that help organizations better manage, organize and maintain their secure windows-based infrastructure with less effort while lowering associated IT support costs. Headquartered in Los Angeles, California, SysOp Tools serves small- and mid-sized businesses, Fortune 500 companies, government entities, medical and bio-tech firms, hospitals, and educational institutions throughout the world. For more information and to download a free 30 day trial of Password Reset PRO, visit: http://www.sysoptools.com today.
About KCTCS
Each year, thousands of people across Kentucky begin their educational journey at the colleges of Kentucky Community and Technical College System. With 16 colleges and 67 campuses across Kentucky, KCTCS brings first-rate education to every corner of the state. For more information visit: http://www.kctcs.edu
SysOp Tools, Password Reset PRO, IP-to-User and As-Is Technology are trademarks of SysOp Tools, Inc. All other marks are the property of their respective owners.
###