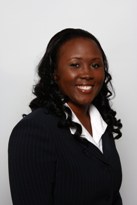 Don't allow the bumps in road to become barriers to your success

-LeTonya F. Moore, Esq.
Atlanta, GA (PRWEB) May 21, 2013
"Sharing your deepest insecurity with the world is the scariest thing I have done in my career," says Business Strategist LeTonya F. Moore, CEO and Chief Counsel of Opulence Enterprises, LLC referring to sharing her story of being and unwed teenage mother. As a first step to gaining the strength to discuss how this situation affected her, she co-authored a book about her experience and her triumph as a young woman. LeTonya is no stranger to overcoming obstacles and believes the best therapy is serving as an inspiration to others taking the same path in life. LeTonya's personal mission is to help clients develop tools to release the strongholds that become present in the mind when something traumatic happens in their lives. "My goal with this teleseminar is to use my story as a teaching tool to reposition the attendees' thoughts, hearts, and mindsets. I want them to be equipped when they are ready to stand firm and say, 'My past is behind me and I'm moving forward," says LeTonya.
On June 11, 2013, she joins forces with Amazon best-selling Author and 9/11 survivor Michelle Rosado; Annette Lynch, Australian Olympian; and Dorris Burch, a Life Coach specializing in improving the lives of women, in the "Using Your Mind to Overcome Obstacles" teleseminar on Tuesday, June 11, 2013 at 7:00pm EST. Michelle Rosado began her career early during the irrational exuberance on Wall Street in the 90's and beginning of the 2000's. On September 11, 2001, she was on the 95th floor of Tower II in the World Trade Center and saw the first plane hit Tower I. Michelle narrowly escaped on the last elevator out of Tower II before it was under attack. Living through this traumatic event helped Michelle realize she needed to make some life changes. Michelle shares how this and a chance encounter with Randy Rosado "jump-started" her life's transformation process.
Annette Lynch wows audiences with her story of being a little girl with BIG Olympic dreams, only to have those dreams crushed by rejection, insult, and injury. Annette shares how she eventually reached her goal of being an Olympian and representing Australia just as she had hoped some years prior. Annette talks about the other side of victory and how she found herself without goals and directions that led to depression and an eating disorder. She works with audiences on how to set goals, build confidence, and to stand in the front of the crowd with grace and presence, despite your past deeds, you are capable of success.
Dorris Burch challenges audiences to get ready for the transformational experience of a lifetime. Dorris, a personal transformation expert is an author and sought after global speaker who specializes in the motivation and inspiration of women and girls. Dorris has been called the 'rockstar of transformation" and will laser in on participants' gift zones to help them leverage their gifts to achieve exponential success.
About Opulence Enterprises, LLC: Opulence Enterprises, LLC provides business strategy, development, consulting, and representational services to business and organizations. Opulence was founded in 2007, by Attorney LeTonya F. Moore who presently serves as both CEO and Chief Counsel. Attorney Moore has more than two decades of business and legal advisory combined experience in both public and private sectors.
For more information about Opulence, visit our website or call 813-384-7606.
Media Inquiries Contact us:
Lola Mason, Executive Assistant
Opulence Enterprises, LLC
5470 E. Busch Blvd
#452
Tampa, FL 33617
813-384-7606
###