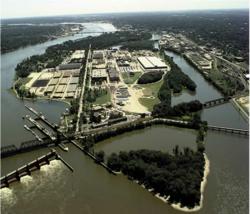 Orlando, fl (PRWEB) October 23, 2012
Rock Island Integrated Services was recently awarded the U.S. Army Support Contract worth nearly $109 million dollars for a complete facility and utility overhaul of the location. The newly acquired services to the island will feature new items such as pest control, electrical circulation systems, government bridge operations, and water and sewage coordination.
Rock Island Arsenal is a 946-acre island set on the Mississippi River and is considered to be the oldest government-owned arsenal in the United States of America. Bruce Stanski, Group President of the Fluor Government Group International, Inc commented "Rock Island is home to approx. 6,000 military, civilian and contractor personnel….We are pleased to be able to continue our work at Rock Island and very proud of the Army's confidence in us to provide support to our men and women in uniform and their families." (INVESTOR.FLUOR.COM)
This massive contract project was won by the joint venture between Fluor Corp Inc, DEL-JEN Inc, and AECOM, which the deal would facilitate Rock Island Arsenal in Illinois and include six other project locations in Iowa and Illinois.
According to AECOM's official website, they provide instillation support to the Army's manufacturing and direct support missions such as engineering and product assurance for a number of Department of Defense activities. AECOM also works in architecture building engineering, design, economics, energy, environment, government, mining, oil, gas, and number of other industries.
Rock Island Integrated Services' NAICS listing under 'All Other Support Services ' was only one of 350 listings in need of contracting. All of these business opportunities are available if your business is properly registered for federal government projects. Additional information on current government contracting projects can be found on Federal Business Opportunities (FBO.gov). These types of projects can be found and acquired to small business and other contractors through marketing their company by registering with the federal government through System for Award Management (SAM). According to Government Contracting Tips Blog, it can take up to 20 hours to file your SAM and still be reject if not completed properly, and that it is suggested to use a third party registration firm that helps businesses market their services to the Federal Government. As quoted by Eric Knellinger, President of the US Federal Contractor Registration, "Small business is the backbone of this nation's economy, which is why our company specializes in the growth of revenue for small businesses." The US Federal Contractor Registration is a third party registration firm that specializes in helping government contractors register through the correct channels to provide their services to the federal government.
US Federal Contractor Registration is the first and largest registration firm, with corporate offices in Orlando, FL . US Federal Contractor Registration has helped thousands of businesses complete their SAM registration and bid on contracts. US Federal Contractor Registration pairs businesses with a dedicated case manager who helps them every step of the way from initial registration to bidding on contracts.US Federal Contractor Registration's BBB rating is A- thanks to the quality of their service and responsiveness to customers. To request a free evaluation and assessment by a Placement Specialist for your business, call the Contractor Helpline at (877) 252-2700 ext 1 or visit our website at https://www.uscontractorregistration.com/.