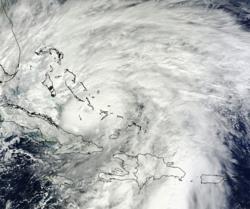 Orlando, FL (PRWEB) October 30, 2012
According to Accuweather.com, Hurricane Sandy grows and maintains wind speeds up to 85 mph. The storm is expected to hit the Jersey Shore coast around 9am tomorrow morning but has already brought 17 foot waves to the shores of beaches such as Point Pleasant and Belmar, New Jersey. Road ways in Atlantic City, New Jersey have already begun flooding and the registered tide gauge is currently 8.25 feet, almost already beating the current dated record of 9.0. The storm is so massive that its clouds have reached to Midwest regions such as Michigan, as far south as Bermuda, and as far North as the Article Circle. The US Federal Government and the efforts of FEMA will be looking for large emergency preparedness outfits and small clean-up businesses to be employed to help in the damage relief effort. For more information about properly registering your business for federal work with FEMA please In order to compete for FEMA Contracts, vendors must complete a FEMA Vendor Profile in addition to SAM (System for Awards Management) registration.
All vendors are also strongly encouraged by the Small Business Administration to implement an aggressive marketing campaign in addition to the basic registration requirements. To help businesses quickly prepare for FEMA contracts to help with Hurricane Sandy damages, the US Federal Contractor Registration will now assist their clients complete the FEMA Vendor Profile. In addition to assisting them their FEMA Contract the US Federal Contractor Registration will also help with their small business SAM registration. US Federal Contractor Registration's government marketing services include the creation of a Dynamic Small Business Search profile for the vendor as well.
Alex Sosnowski, Expert Senior Meteorologist for Accuweather Forecast makes point to say that 'Frankenstorm' is expected to create more damaged to New York City that Hurricane Irene. Hurricane Sandy is predicted to bring damaging winds, urban/small stream flooding, and city wide power outages causing the city that never sleeps to completely shut down closing the inbound and outbound lanes of the Lincoln Tunnel. Fallen trees and other debris are anticipated to create traveling in cities and towns in Washington DC, New Jersey, New York, Pennsylvania, Maryland, Rhode Island, and Massachusetts almost impossible for the next week.
US Federal Contractor Registration is a third party registration firm with corporate offices in Orlando, FL that has helped thousands of businesses complete their SAM registration and bid on contracts. US Federal Contractor Registration pairs businesses with a dedicated case manager who helps them every step of the way from initial registration to bidding on contracts. US Federal Contractor Registration's BBB rating is A- thanks to the quality of their service and responsiveness to customers. To request a free evaluation and assessment by a Placement Specialist for your business, call the Contractor Helpline at (877) 252-2700 ext 1 or visit our website at https://www.uscontractorregistration.com.