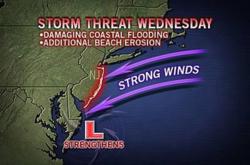 Orlando, FL (PRWEB) November 06, 2012
As if the coast of New York- New Jersey has not suffered enough damage and despair from Hurricane Sandy, there is now a Nor'easter headed directly for areas on the northeast coast that were already previously ravaged by the super storm Sandy. According to The Weather Channel.com, a Nor'easter "is among winter's most ferocious storms. These winter weather events are notorious for producing heavy snow, rain, and over-sized waves that crash onto Atlantic Beaches, often causing beach erosion and structural damage. Wind gusts associated with these storms can exceed hurricane force in intensity."
ABC News reports that the Nor'easter expended to hit the coasts of New Jersey and New York Tomorrow, Wednesday November 7, 2012 will be bringing strong 33 degree winds up to 55 mph, possible flooding of 3 to 4 inches of rainfall, and possible snow fall depending on the drop of temperature during the time of the storm. The Nor'easter is expected to cause more power outages and add to the current damage of fallen trees and residential harm. According to Philly.com, the coasts of New Jersey currently being aided by the Obama administration and Governor Chris Christie stated "We want those hardest hit by Sandy to know that there is an increased police presence in these Shore communities and that we will be vigilant to their homes and businesses while they are forced to remain inland for their safety. The president and his administration also stated this past Thursday that it would provide $16 million to hire 1,000 temporary workers in the Hurricane clean up of New Jersey. The administration also pledged $10 million for road repairs and the reimbursement of the cost of emergency power and the required public transit through the date of November 9th.
FEMA has announced on their site FEMA.org, they will still be expecting FEMA Assistance and the last day to register to help in the relief of Hurricane Sandy will be November 30th. Businesses that are currently registered for federal government work will be able to show up on site and aid FEMA. To help businesses quickly prepare for FEMA contracts,US Federal Contractor Registration now helps their clients complete the FEMA Vendor Profile, in addition to assisting them with their SAM (System for Award Management) registration. SAM Registration is required in order to bid on federal employment with federal contractors or apply for no-bid contracts with FEMA. US Federal Contractor Registration's government marketing services include the creation of a Dynamic Small Business Search profile for the vendor as well.
US Federal Contractor Registration is currently offering a free evaluation and review of vendors' government registration, including their SAM registration. During the evaluation, a Placement Specialist will review the company's government contractor registration to ensure it is complete, contains the correct information and is optimized to help them win government contracts.
US Federal Contractor Registration is a third party registration firm with corporate offices in Orlando, FL that has helped thousands of businesses complete their SAM registration and bid on contracts. US Federal Contractor Registration pairs businesses with a dedicated case manager who helps them every step of the way from initial registration to bidding on contracts. US Federal Contractor Registration's BBB rating is A- thanks to the quality of their service and responsiveness to customers. To request a free evaluation and assessment by a Placement Specialist for your business, call the Contractor Helpline at (877) 252-2700 ext 1 or visit our website at https://www.uscontractorregistration.com/.