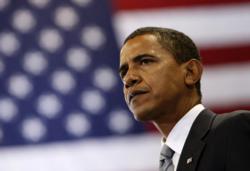 Orlando, FL (PRWEB) November 14, 2012
Shortly after his re-election campaign win, President Obama is preparing to meet with numerous labor leaders at the White House to resolve economic issues. The purpose of the 'Balanced Plan' that Obama will be urging Congress to pass with correct the economy while still avoiding deep cuts to programs like Social Security and Medicare. According to USA Today, the president will sit down with AFL- CIO President Richard Trumka, President of Service Employees International Union Mary Kay Henry, Lee Saunders of the American Federation of State, County and Municipal employees; and National Education Association President Dennis Van Roekel. President Obama is also set to meet with leaders of several other progressive companies such as MoveOn.org, and large corporate business leaders representing Wal-mart, Xerox, and American Express. President Obama pushed his view point of making the majority of Americans believe that the best way to cut the deficit included a mix of budgetary cuts and raising taxes on the wealthy Americans.
President Obama has decided to meet with both of the parties' congressional leadership this upcoming Friday to come to a solution besides the $600 billion tax hike and budget cuts are put into effect. The $600 billion tax hike and budget cuts are scheduled for January 1st if there isn't an agreement between members of the White House and lawmakers. Small business owners and contracts will be affected drastically with theses tax hikes. If small businesses are interested in Government contracts available, they can currently be viewed online by sites such as Federal Business Opportunities FBO.gov). These types of projects can be found and acquired to small business and other contractors through marketing their company by registering with the federal government through System for Award Management (SAM). US Federal Contractor Registration helps businesses connect with government procurement officers around the nation to network for federal government awards/employment. There service has been proven to help businesses register quickly, qualify, and connect with federal procurement officers for contract work.
According to Government Contracting Tips Blog, it can take up to 20 hours to file your SAM and still be reject if not completed properly, and that it is suggested to use a third party registration firm that helps businesses market their services to the Federal Government. US Federal Contractor Registration is a third party registration firm that specializes in helping government contractors register through the correct channels to provide their services to the federal government.
US Federal Contractor Registration is the first and largest registration firm, with corporate offices in Orlando, FL. US Federal Contractor Registration has helped thousands of businesses complete their SAM registration and bid on contracts. US Federal Contractor Registration pairs businesses with a dedicated case manager who helps them every step of the way from initial registration to bidding on contracts.US Federal Contractor Registration's BBB rating is A- thanks to the quality of their service and responsiveness to customers. To request a free evaluation and assessment by a Placement Specialist for your business, call the Contractor Helpline at (877) 252-2700 ext 1 or visit our website at https://www.uscontractorregistration.com/.