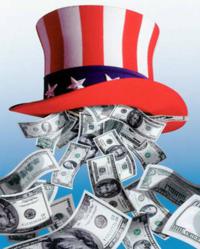 Orlando, FL (PRWEB) November 20, 2012
When Hurricane Sandy slammed into the Northeast coast of the United States it caused damage that would truly be lasting. Since the damage has started, companies have been working tirelessly to mend the broken parts of the nation. Boardwalks destroyed, houses under water or sand, massive coastal damage and hundreds being left homeless are just a few details from the overall destruction of Hurricane Sandy. FEMA.gov has stated that they have placed over 30 Disaster Recovery Centers in the Northeast to aid victims from the storm. FEMA is still currently contracting businesses to help in the relief effort with the damage done from Hurricane Sandy.
It has been reported in the Federal Procurement Data System (fpds.gov), that there has been over $150 million dollars spent so far contracting small businesses to help in repair the damage. Small Disadvantaged Businesses have currently collected over $4 million dollars, Women Owned Businesses have collected close to $3 million dollars, qualified HUBZone Businesses have collected over $3 million dollars, and Veteran Owned Businesses have collected close to $730,000 dollars. The funds were recorded from the Department of Homeland Security, Department of Transportation, Environmental Protection Agency, Department of Veteran Affairs, Department of the Interior, Department of Justice, Department of Commerce, General Services Administration, and Department of Agriculture. The Federal Emergency Management Agency was not included in this summary, which would leave out hundreds of thousands of dollars, and possibly millions currently being contracted to small businesses helping in the recovery of Hurricane Sandy.
The federal procurement officers responsible for hiring businesses to help with the damages from Hurricane Sandy must be registered with System for Awards Management (SAM) in order to apply for federal government contracts. Only then will the business be given work from the federal government. You must also have a registered FEMA Vendor Profile in order to help FEMA with the efforts from Hurricane Sandy or other natural disasters that require aid. US Federal Contractor Registration is a third party company that helps businesses not only connect with federal procurement officers to receive federal government contracts, but also registers businesses in System for Awards Management (SAM) and creates a FEMA Vendor Profiles. Eric Knellinger, President of US Federal Contractor Registration quoted "Small business is the backbone of this nation's economy, which is why our company specializes in helping small business build new revenue . We want businesses to not only survive, but thrive."
US Federal Contractor Registration helps businesses register with SAM to become registered for federal government work. SAM registration can often take business owners/employees up to 20 hours to fill out and still be rejected even after the fact. US Federal Contractor Registration provides Case Managers who are experts in SAM registration and FEMA Vendor Profiles help businesses easily register and have excellent appeal for federal procurement officers.
To help businesses quickly prepare for FEMA contracts, US Federal Contractor Registration now helps their clients complete the FEMA Vendor Profile, in addition to assisting them with their SAM (System for Award Management) registration. SAM Registration is required in order to bid on federal employment with federal contractors or apply for no-bid contracts with FEMA. US Federal Contractor Registration's government marketing services include the creation of a Dynamic Small Business Search profile for the vendor as well. During the US Federal Contract Registration evaluation, a Placement Specialist will review the company's government contractor registration to ensure it is complete, contains the correct information and is optimized to help them win government contracts. To receive this free evaluation, interested businesses should contact the toll free Contractor Helpline at (877) 252-2700 ext 1. Placement Specialists can also answer questions contractors may have about the new System for Award Management or current federal procurement opportunities.
US Federal Contractor Registration is a third party registration firm with corporate offices in Orlando, FL that has helped thousands of businesses complete their SAM registration and bid on contracts. US Federal Contractor Registration pairs businesses with a dedicated case manager who helps them every step of the way from initial registration to bidding on contracts. US Federal Contractor Registration is currently offering a free evaluation and a review of vendors' government registration, including their SAM registration. US Federal Contractor Registration complaints are minimal as showcased by the A- Better Business Bureau (BBB) rating due to the quality of their service and responsiveness to customers. To request a free evaluation and assessment by a Placement Specialist for your business, call the Contractor Helpline at (877) 252-2700 ext 1 or visit our website at https://www.uscontractorregistration.com/.
*'Like" US Federal Contractor Registration on Facebook to follow up-to-date government contracting news.