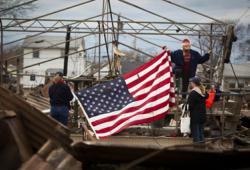 Orlando,FL (PRWEB) November 22, 2012
In this time of recovery in the wake of Hurricane Sandy, many have been called upon to aid in the relief efforts. In New York City, the 6,000 employed sanitation workers have been hard at work and have also acquired additional help from hundreds of private contractors hired under a $92 million FEMA Contract as executed by the Army Corps of Engineers. Businesses properly registered for federal government work continue to put all their efforts into collecting damaged items from homes, but have yet to see any sight of the finish line. According to the Associated Press, New York City has collected an estimated 271,000 tons of ruins and debris just from local neighbors alone.
The National Insurance Crime Bureau reported 52,000 reports of car damage from Hurricane Sandy stating claims that include massive water damage from flooding and smashed car frames from fallen trees. Long Beach, NY public work crews worked 16 hours shifts to accumulate sand from buried parts of the city. The sand collected from the city streets now currently stands 5 stories high. Rocks and fragments have been moved to landfills in Pennsylvania. Garbage barges have also been called into service to help traffic the wreckage across the Hudson to new locations to dump the rubble. Beaches across the New Jersey shore have been affected so dramatically that an abundant of vehicles are still blocking most of the roadways in these areas. The blocked roads are causing mass confusion for towing companies hired to collect vehicles stranded on front lawns and vacant streets.
The federal procurement officers responsible for hiring businesses to help with the damages from Hurricane Sandy must be registered with System for Awards Management (SAM) in order to apply for federal government contracts. Only then will the business be given work from the federal government. You must also have a registered FEMA Vendor Profile in order to help FEMA with the efforts from Hurricane Sandy or other natural disasters that require aid. US Federal Contractor Registration is a third party company that helps businesses not only connect with federal procurement officers to receive federal government contracts, but also registers businesses in System for Awards Management (SAM) and creates a FEMA Vendor Profiles. Eric Knellinger, President of US Federal Contractor Registration stated "When natural disasters occur, the United States government searches for federal government registered businesses to assist in the relief efforts of the damage. Our service properly registers businesses in SAM to become eligible for federal government contracts."
US Federal Contractor Registration helps businesses register with SAM to become registered for federal government work. SAM registration can often take business owners/employees up to 20 hours to fill out and still be rejected even after the fact. US Federal Contractor Registration provides Case Managers who are experts in SAM registration and FEMA Vendor Profiles help businesses easily register and have excellent appeal for federal procurement officers.
To help businesses quickly prepare for FEMA contracts, US Federal Contractor Registration now helps their clients complete the FEMA Vendor Profile, in addition to assisting them with their SAM (System for Award Management) registration. SAM Registration is required in order to bid on federal employment with federal contractors or apply for no-bid contracts with FEMA. US Federal Contractor Registration's government marketing services include the creation of a Dynamic Small Business Search profile for the vendor as well. During the US Federal Contract Registration evaluation, a Placement Specialist will review the company's government contractor registration to ensure it is complete, contains the correct information and is optimized to help them win government contracts. To receive this free evaluation, interested businesses should contact the toll free Contractor Helpline at (877) 252-2700 ext 1. Placement Specialists can also answer questions contractors may have about the new System for Award Management or current federal procurement opportunities.
US Federal Contractor Registration is a third party registration firm with corporate offices in Orlando, FL that has helped thousands of businesses complete their SAM registration and bid on contracts. US Federal Contractor Registration pairs businesses with a dedicated case manager who helps them every step of the way from initial registration to bidding on contracts. US Federal Contractor Registration is currently offering a free evaluation and a review of vendors' government registration, including their SAM registration. US Federal Contractor Registration complaints are minimal as showcased by the A- Better Business Bureau (BBB) rating due to the quality of their service and responsiveness to customers. To request a free evaluation and assessment by a Placement Specialist for your business, call the Contractor Helpline at (877) 252-2700 ext 1 or visit our website at https://www.uscontractorregistration.com/.
*'Follow' US Federal Contractor Registration on Twitter to for up-to-date government contracting news.