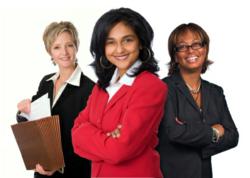 Orlando, FL (PRWEB) January 04, 2013
The federal government has set-aside 5 percent of federal contracting funds to the 8 (m) Woman-Owned Small Business program. Every Woman-Owned Business must be registered in System for Award Management (SAM) in order to receive and bid on federal contracts. As of July 2012, CCR and ORCA were merged into one main database now known as SAM or System for Award Management in an effort to consolidate multiple forums dedicated to federal contract registration. As mandated in section 1331 of the Small Business Jobs Act of 2010, Public Law 111-240, the Admission and Congress would now recognize the significant amount of untapped opportunities that exist to increase small business participation in government contracting. Section 1331 of the Small Business Act was established to regulate which Federal agencies may use partial contract set-asides, contract reserves, and order set-asides under multiple award contracts. Therefore, the federal market for Woman-Owned Businesses was built and made to influence all who meet these specifications.
Once your business is registered in System for Award Management, you must submit specific documents to the government in order to be certified for the 8 (m) WOSB Program. At least 51% of the business must be women owned, and the business must be unconditionally controlled by one or more women who are U.S. Citizens. The self-certification documents as required by the Small Business Administration include:
Corporate governance documents such as Organization and Operating Agreements (Limited Liability Companies), Articles of Incorporation and Bylaws (Corporations), and Partnership Agreements (partnerships).
Birth Certificates or current United States Passport to provide Woman-Owners as U.S. Citizens
If you are a Corporation, all your stock certificates in accordance with the bylaws and the stock ledger.
A signed copy of the Women-Owned Small Business Program Certification as made available at: http://www.sba.gov/content/women-owned-small-business-wosb-program-certification
Completed SBA Form 413 made available at: http://www.ucosbdc.org/Websites/ucosbdc/Images/form413.pdf
Completed SBA Form 413 for every economically disadvantaged woman's spouse (if applies)
Eric Knellinger, President of US Federal Contractor Registration and the foremost expert on 8(m) Women-Owned Business Registration states " The hardest part about whole registration process is knowing the proper procedures, gathering documentation, and putting it all together to meet federal requirements. It is of the upmost importance you register your business properly so can start the bidding process and receive federal set-aside contracts. US Federal Contractor Registration prides itself on helping Woman-Owned Small Businesses facilitate their paperwork so they will not only survive, but thrive in this economy." US Federal Contractor Registration encourages all Women-Owned Businesses to become registered and receive those much deserved set-aside contracts.
US Federal Contractor Registration is currently offering a free evaluation and review of vendors' government registration, including their SAM registration. During the evaluation, a Placement Specialist will review the company's government contractor registration to ensure it is complete, contains the correct information and is optimized to help them win government contracts.
US Federal Contractor Registration is the world's largest third party registration firm that pairs businesses with a dedicated case manager who helps them every step of the way from initial registration to bidding on contracts. US Federal Contractor Registration's BBB rating is A- thanks to the quality of their service and responsiveness to customers. To request a free evaluation and assessment by a Placement Specialist for your business, call the Contractor Helpline at (877) 252-2700 ext 1 or visit our website at https://www.uscontractorregistration.com/.