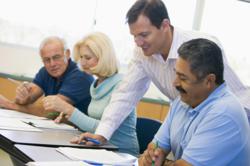 Orlando, FL (PRWEB) January 09, 2013
A business owner that controls 51% of his or her business can be considered 'socially disadvantaged' if they have been subject to racial/ethnic prejudice or cultural bias. The business owner's identity has be associated as a member of a particular group or deemed disadvantaged from circumstances beyond the businesses owner's control. In order to qualify for the 8(a) Program, a business must show a distinguishing feature that could contribute to being socially disadvantaged. Specific groups of Americans that would be considered socially disadvantaged by ethnicity would be African Americans, Hispanic Americans, Native Americans, and certain Asian Americans. A big misconception about the 8(a) Program is that you don't have to be considered a minority just based on ethnicity in order to meet the criteria of the program. As long as the business owner demonstrates his or her social disadvantage to the federal government when registering, their business can be approved for 8(a).
The government qualifying a business as an 8(a) economically disadvantaged business is all based on personal income and total assets. The SBA (Small Business Administration) states according to the 8(a) Business Development Program Regulations that a business's Adjusted Net Worth must not exceed $250,000 for initial eligibility or $750,000 for continuing eligibility. A business owner's Personal Income must not exceed $250,000 (averaged over three years) for initial eligibility or $350,000 for continuing eligibility. A business's personal income taxes are allowed to be filed with your spouse, but the federal government will exclude your spouse's income from the overall calculation. Financial evidence such as a W-2 will need to be required to prove to the government who has been responsible for the income. Assets such as jewelry and electronics are to be included in a business owner's Total Assets. Total Assets must not exceed $4 million for initial eligibility and $6 million for continued eligibility allowing for growth during the business's 9-year term.
8(a) applications are reviewed by the federal government and the intricacy of the application will determine the length of time that it will be reviewed. The maximum time frame as stated by the SBA is 90 days to process, which makes filling out the 8(a) application so important to a small business on a time frame. Most of the time when the small business owner fills out their 8(a) eligibly registration it is still deemed insufficient and isn't approved by the federal government. Third party registration firms such as US Federal Contractor Registration provides case mangers that perform step-by-step accreditation to make sure your business gets approved for 8(a) and is prepared to starting the bidding process.
Eric Knellinger, President of US Federal Contractor Registration states "In order to meet the specific requirements as mandated by the federal government for 8(a) eligibility, a business must make sure they are providing all the proper documentation. The benefits from registering for 8(a) can be astounding, and we are proud to say that we help disadvantaged businesses not only survive, but thrive using 8(a) . That is what makes my position here at US Federal Contractor Registration so rewarding." System for Award Management (SAM) allows a business owner to managed their federal government contracting details. System of Award Management has replaced the pervious procurement website of CCR.gov. System updates, reports, and trending news on SAM can be found at Government Contracting Tips Blog.
US Federal Contractor Registration is currently offering a free evaluation and review of vendors' government registration, including their SAM registration. During the evaluation, a Placement Specialist will review the company's government contractor registration to ensure it is complete, contains the correct information and is optimized to help them win government contracts. To receive this free evaluation, interested businesses should contact the toll free Contractor Helpline at (877) 252-2700 ext .
US Federal Contractor Registration is a third party registration firm with corporate offices in Orlando, FL that has helped thousands of businesses complete their SAM registration and bid on contracts. US Federal Contractor Registration pairs businesses with a dedicated case manager who helps them every step of the way from initial registration to bidding on contracts. US Federal Contractor Registration's BBB rating is A- thanks to the quality of their service and responsiveness to customers. To request a free evaluation and assessment by a Placement Specialist for your business, call the Contractor Helpline at (877) 252-2700 ext 1 or visit our website at https://www.uscontractorregistration.com/.