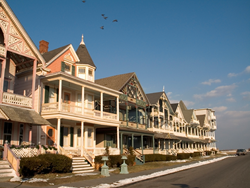 I urge any New Jersey or tri-state contractor to become registered in System for Award Management (SAM) to be eligible to accept government contracts and set-asides.
Orlando, FL (PRWEB) May 10, 2013
"In New Jersey everything is at a complete standstill. Government contractors that are working on the devastated areas of the jersey shore are waiting to see what the new elevation codes will be. And on top of all of this, who is responsible for paying the bill? This part is very unclear. Is it the homeowner, the insurance company, or FEMA? Only when we find this out can we truly start to rebuild our beloved jersey shore homes," stated Louis DeMary, Project Manager of Richie D Construction. This past January, legislation was passed with $50.7 billion granted to the state of New Jersey to rebuild beach shores and aid other affected areas from Hurricane Sandy. Congress also approved $9.7 billion to residents affected by the storm with flood insurance. However, several months later in this struggling economy there is still a standstill on flood liability. The question that has homeowners and government contractors scratching their heads is who is going to pay to raise these flooded homes? If the homes are considered to be in an A Zone, it would require the home to be raised several feet off the ground to meet code. A Z zone would mean that the home is beyond repair and must be torn down. The issue is a confusing one at best. Will it be the actual homeowner, the homeowner's insurance policy or FEMA with the promised $9.7 billion?
Mr. DeMary continued to question the zoning situation stating, "If it is going to be the homeowner's responsibility, they are going to be up to their eyes in debt. The areas of South Jersey, Ocean County, and Monmouth County have suffered greatly. The homeowners can not afford to take a hit like this. Once the zoning and elevation has been decided then we can finally get back to work and not stand idle like we have been doing for the past 4 months. The government will have to hire tons of contractors to help with this massive project. US Federal Contractor Registration registered my business for government contracts; they even set me up with FEMA. If you are a contractor and would like to become registered to partake in this massive project you need to call US Federal Contractor Registration immediately, so they can assist you with the registration process. I am personally very grateful for US Federal Contractor Registration. Once the state decides who is responsible, I am ready and prepared to help with the on-going hurricane relief."
Bob Considine, Spokesman for the Department of Environmental Protection (DEP) in the state of New Jersey quoted in a phone interview with Max Timko of Governmentcontractingtips.com stated, "We have been told that FEMA anticipates to update and fine tune their zoning maps before the start of this upcoming summer in 2013. This will give notice to contractors and homeowners of the coastal elevation changes that will be occurring within the next two years. The DEP continues to work with FEMA to provide input on these maps. FEMA can provide up to $30,000 to cover the Increased Cost of Compliance (ICC) with federal, state and local regulations if you have federal flood insurance. In addition, the Christie Administration intends to provide grants to homeowners with substantially damaged homes to help them offset some of the costs of elevation, mitigation and renovation. The administration will announce such grants in the near future."
Eric Knellinger, President of US Federal Contractor Registration stated, "Months ago I quoted on this situation expressing how pleased I was with congress for granting $50.7 billion to the state of New Jersey in relief funds. Now it is time for New Jersey to get this zoning mess behind them. I am sure Governor Christie and his staff are working diligently to solve this issue. Our office stands ready to assist Gov. Christie and the great state of New Jersey to register contractors for disaster relief. This is the least we can do to help Gov. Christie in the state of New Jersey through these trying times. When Hurricane Sandy occurred we registered thousands of contractors to help in this disaster relief. People still remain homeless and they are waiting for action. I urge any New Jersey or tri-state contractor to become registered in System for Award Management (SAM) to be eligible to accept government contracts and set-asides. Register now so your business will be eligible to bid on contracts that help with the construction and damage clean up. We are here to make sure that any and all contractors are ready to help where it is needed the most. We want your business to not only survive, but thrive in government contracting."