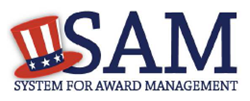 We simplify the process for businesses registering in SAM and prepare them to bid on contracts. That is why we receive so much praise and respect from both contractors and procurement officers all around the world.
Orlando, FL (PRWEB) June 26, 2013
The newly integrated procurement database of System for Award Management has been given a final ruling by the federal government of its Phase 1 Implementation. The Department of Defense (DoD), National Aeronautics and Space Administration (NASA) and the General Services Administration (GSA) made a final ruling this past week amending the Federal Acquisition Regulation (FAR). The amendment was regarding Phase 1 of SAM by finalizing updates to references and making minor changes to new designations of the database. The 'Final Rule' concludes closing changes to the merger of CCR, ORCA, and EPLS databases into System for Award Management (SAM).
Since Phase 1 of SAM has started, US Federal Contractor Registration (USFCR) has migrated previously registered contractors from CCR to SAM to make sure their business continues to qualify for government contracts and federal set-asides. USFCR is the world's largest third party registration firm that continues to migrate thousands of small businesses into SAM. This is all in an effort to increase small business involvement in government contracting. The Federal Government has issued by law that 23% of all prime contracting dollars are to be awarded to registered small business government contractors. According to USAspending.gov, in 2012 there was over $500 billion worth of government contracts awarded to businesses. The federal marketplace for government contracting has an enormous amount of opportunity for registered small businesses. USFCR makes sure that small businesses are properly registered in SAM and approved for small business contracts and simplified acquisition contracts.
The official statement from the Office of the Federal Register announced the "GSA began implementation of Phase 1 of SAM on July 29, 2012. Phase 1 combined the functional capabilities of the CCR, ORCA, and EPLS applications into the SAM database. Upon implementation, the pre-existing applications were retired, and all requirements for entity registration, representations and certifications, and exclusions are now accomplished via SAM. This final rule amends the FAR by updating references and names to conform to the SAM designation. This final rule also makes a number of minor additional conforming changes, such as updates to definitions."
Eric Knellinger, President of US Federal Contractor Registration quoted in an interview with GovernmentContractingTips.com stating, "After traveling down a long and bumpy road, we have finally made it. Phase 1 of System for Award Management is practically complete. This Final Rule will now make the last amendments to Phase 1 and start to incorporate more procurement resources within the system itself. For the past year, we here at USFCR have been registering tens of thousands of businesses for government contracts as well as migrating expired contractors into the new procurement database of SAM. We simplify the process for businesses registering in SAM and prepare them to bid on contracts. That is why we receive so much praise and respect from both contractors and procurement officers all around the world. We want to make sure businesses not only survive, but thrive in government contracting."