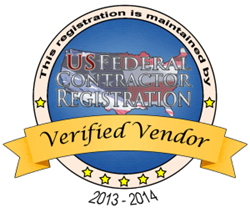 Orlando, FL (PRWEB) August 30, 2013
According to the 2013 USAspending.gov spending reports, contractors in the state of Alabama have already raked in over $6 billion during the current fiscal year. As of August 26th, 2013 USAspending.gov recorded 58,695 contracts awarded throughout the state of Alabama since October 1st, 2012. Nationwide, the federal government spent over $517 billion during the 2012 fiscal year. USAspending.gov continues to show that most of the contracting dollars were spent by the Department of Defense, totaling over $361 billion awarded to small and large businesses during 2012. This amount was nearly five times higher than the contracting dollars spent by NASA and the Departments of Energy, Health and Human Services, and Veterans Affairs combined.
However, in order for businesses to participate in federal contracting, they must first be registered. This involves obtaining a DUNS number and registering their information in the System for Award Management (SAM). Unfortunately, many business owners find the registration process complicated and time consuming. Even contractors already familiar with federal acquisition regulations may experience difficulty navigating the required websites and accurately reporting their company's data. For firms who are completely new to government contracting, keeping up with the jargon and laws associated with government contracting can pose a challenge. According to the Small Business Administration's (SBA) annual scorecard assessing the federal government's success at meeting these procurement goals, contract awards to small businesses and set aside businesses have consistently fallen short of the mandated goals.
To properly prepare for registration in SAM, businesses can easily spend weeks researching federal acquisition regulations and requirements. Even businesses who were previously registered in CCR and need to migrate their registration to SAM may find the process tricky. This is why thousands of businesses have trusted third party registration firms like US Federal Contractor Registration to handle their registration. US Federal Contractor Registration assigns each business a dedicated case manager who helps the business complete all the federal contracting requirements and registrations. US Federal Contractor Registration also offers comprehensive marketing services, which include the development of an optimized, government formatted website.
US Federal Contractor Registration is a third party registration firm that has helped thousands of businesses complete their registration and bid on contracts. US Federal Contractor Registration pairs businesses with a dedicated case manager who helps them every step of the way, from initial registration to bidding on contracts. To request a free evaluation and assessment by a Placement Specialist for your business, call the Contractor Helpline at (877) 252-2700 ext 1 or visit our website at https://www.uscontractorregistration.com/.