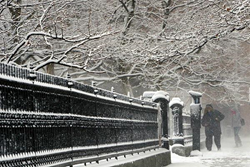 Orlando, FL (PRWEB) January 09, 2014
Weather conditions across the country have been getting worse as temperatures plummet below -35F in some parts of the country. Southern parts of the country are being hit with colder weather than they have experienced in the past 20 years. Meteorologists are calling it a Polar Vortex due to the weakened spinning air flow that has allowed sub-zero air that is normally trapped to leak out. This sub-zero air flow has made its way in a counter clockwise movement across the United States. Citizens are being advised to take shelter and not let any skin be exposed to these freezing temperatures.
When the temperature drops to this drastic degree machines are destroyed and roadways are damaged among many other problems. Just like a business, the federal government needs to hire specialists who know how to fix these problems. That is why it is so important for businesses to become properly registered in System for Award Management (SAM). Once a business is registered in SAM they can then work for the federal government to help repair broken equipment due to the Polar Vortex.
In order for businesses to participate in government contracting, federal acquisition regulations require that they first register in the System for Award Management, or SAM. This database of federal contractors replaced the now defunct Central Contractor Registration and Online Representations and Certifications Application systems in July of 2012. Users who were previously registered with CCR and ORCA must migrate their registration to SAM in order to remain eligible for federal contract and grant awards; businesses new to government contracting must complete their new registration with SAM.
US Federal Contractor Registration is a third party registration firm that has helped thousands of businesses complete their registration and bid on contracts. US Federal Contractor Registration pairs businesses with a dedicated case manager who helps them every step of the way, from initial registration to bidding on contracts. To request a free evaluation and assessment by a Placement Specialist for your business, call the Contractor Helpline at (877) 252-2700 ext 1 or visit our website at https://www.uscontractorregistration.com/.