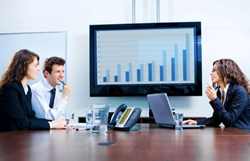 Washington D.C. (PRWEB) December 01, 2014
Robert Doscher Associates has been a Verified Vendor with US Federal Contractor Registration since December 2012. After speaking with Acquisition Specialist Johnathan Maness and discussing available opportunities for their business, Robert Doscher Associates began their enrollment into the Simplified Acquisition Program. The Simplified Acquisition Program is designed to help vendors brand themselves within the federal marketplace and market directly to government buyers.
In only one year, Robert Doscher Associates won $58,837 in government contracts thanks to the Simplified Acquisition Program, and the guidance of Johnathan Maness. Robert Doscher Associates started their Simplified Acquisition Program in December 2013, and established an excellent federal past performance resume with four government contracts completed. Currently, Robert Doscher Associates has decided to venture in the GSA Schedule arena and started US Federal Contractor Registration's GSAP (GSA Simplified Acquisition Program).
About Robert Doscher Associates Inc.
Robert Doscher Associates is a woman owned business, with strong roots in fixture manufacturing. Robert Doscher Associates has filled the need for retail visionaries since 1985 with product and labor. They have almost 40 years of experience building and installing store fixtures for the nations greatest retailers. With manufacturing plants strategically placed in the US, Canada and the Far East, Robert Doscher Associates can produce custom designed millwork, furniture, signs and fixtures for Nationwide companies like Barnes and Noble, Linens and Things, Best Buy, Home Depot, Nike, and many more. 10 years ago, their crew of carpenters began installing their product for restaurants, offices and hospitals. Today, with retail declining and the needs of government consumers on the rise, Robert Doscher Associates is taking their skills to the military. They seek contracts to build and install for the exchanges, canteens, offices, and medical facilities all over the country.
They are a valued resource for those planning a new store, remodel, office or restaurant. They provide top level manufacturers to fulfill metal and wood product needs, as well as signs and graphics. Robert Doscher Associates builds: furniture, shelving, cash wraps, cases, and displays for the retail industry to suit the designer's vision. In addition to supplying the product, they install the very same product anywhere in the United States. They can also supply graphics packages for sign requirements both temporary and permanent.
Robert Doscher Associates is known for being creative and solution oriented, because they work with many manufacturers, they are not married to one solution Though they are a small business, they are always looking to join larger general contracting companies to help take the burden of sign or fixture installation off their hands and offering them options for purchasing the products needed to furnish a retail environment, restaurant or office space.
Robert Doscher Associates Inc. Federal Registration Information
DUNS: 157726290
CAGE: 70WY1
Active in SAM; Registration valid until 12/9/2014
Woman Owned Business
Woman Owned Small Business
North American Industry Classification System (NAICS) codes:
337127 - Institutional Furniture Manufacturing
337211 - Wood Office Furniture Manufacturing
337215 - Showcase, Partition, Shelving, and Locker Manufacturing
339950 - Sign Manufacturing
423210 - Furniture Merchant Wholesalers
Below is the link to Robert Doscher Associates Federally Formatted Website.
Purchasing officers and prime vendors can contact Sheri Stevens, VP of Robert Doscher Associates Inc. at (631) 607-0691 or by email at sher@robertdoscherassociates.com.
Businesses that would like to learn more about the Simplified Acquisition Program or GSAP can call Johnathan Maness at (877) 252-2700 Ext 739. More detailed information about the Simplified Acquisition Program can be found at http://www.simplifiedacquisitionprogram.org/.