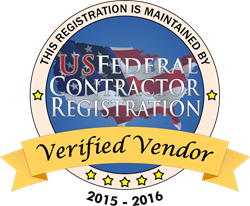 Washington D.C. (PRWEB) March 26, 2015
The United States Federal Government as of 03/25/2015 has 852 open Solicitations in Washington D.C. where they are currently seeking out properly registered government contractors. The Federal Government awarded 96,167 contracts in Washington D.C. for over 18 billion dollars in 2014 alone. Please see the below available contract released by US Federal Contractor Registration, additional Washington D.C. contracts can be found at https://www.uscontractorregistration.com.
US Federal Contractor Registration is reporting the release of the Digital Preservation Utility RFQ in Washington D.C. posted to FedBizOpps (FBO) on March 25, 2015. The Digital Preservation Utility RFQ does not have a response date yet posted or an archiving date set on FedbIzOpps (FBO) at this point in time. Every business interested in bidding on the Digital Preservation Utility RFQ must be properly registered in System for Award Management (SAM), as well as have the North American Industry Classification System codes 518210 - Data Processing, Hosting, and Related Services, and 518 - Data Processing, Hosting and Related Services filed in their SAM account/vendor profile.
Below is a copy of the Digital Preservation Utility RFQ as originally posted to FedBizOpps (FBO) on March 25, 2015:
The Library of Congress/FEDLINK office intends to issue a Request for Quote (RFQ) on or about April 3, 2015 to procure the development of a digital asset ingest utility on behalf of the American Folklife Center (AFC). The AFC requires a tool and workflow that will streamline submitting digital audio-visual (AV) files generated from reformatting efforts into the custody of the National Audio-Visual Conservation Center (NAVCC). This project would involve creating a proof-of-concept tool and workflow for moving digitized AV content from AFC to NAVCC, building an extensible utility to scale the work, and transferring AV files.
Ref: LC15QFP006-LCAF
FEDLINK is a nationwide interagency consortium sponsored by the Library of Congress. The contract will be awarded in accordance with the Library of Congress Fiscal Operations Improvement Act, P.L. 106-481, Section 103 (2 U.S.C. § 182c.). For further information on the Library of Congress FEDLINK program, please visit our website at: http://www.loc.gov/flicc. For information about becoming a FEDLINK vendor, please contact James Oliver, Vendor Services Coordinator, on (202) 707-4960 or email joli(at)loc(dot)gov.
Businesses that would like to learn how to bid on available opportunities or register in SAM can call Acquisition Specialist Rod Johnson at 1(877) 252-2700 Ext 708. Vendors have been enrolling in the Simplified Acquisition Program to win available government contracts, network with procurement officers across the nation, and qualify their business for government contracting. Businesses that would like to learn more about the Simplified Acquisition Program can visit http://www.simplifiedacquisitionprogram.org/.