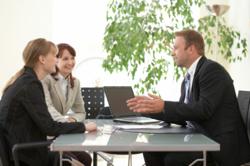 St. Petersburg, FL (PRWEB) September 24, 2011
In order to help small businesses overcome the challenges they face when breaking into the federal contracting market, US Federal Contractor Registration is now making contact lists of the top contracting officers and top prime vendors available to their clients.
The American Express OPEN Forum recommends business owners build relationships and maintain their company's visibility in order to find success in government contracting. The first step to building a relationship and becoming visible is to find the right people. US Federal Contractor Registration helps their clients target the top contracting officers in their industry and geographical area. Armed with this information, business owners can pick up the phone and call these individuals directly to start laying the foundation for future opportunities.
Knowing who the top prime vendors are helps businesses in two ways. First, knowing who their competition are helps vendors to hone their own skills and market themselves appropriately to potential buyers. Second, identifying the prime vendors can help small businesses find subcontracting opportunities on larger contracts. Subcontracting opportunities can help small businesses break into a competitive federal contracting market by allowing them to participate on larger contracts they could not have handled on their own. Subcontracting helps them accumulate past performance references and experience that will prove vital in winning prime contracts down the road.
US Federal Contractor Registration continues to support small businesses compete for government contracts through their many services. In addition to contact lists for contracting officers and prime vendors, US Federal Contractor Registration offers assistance for CCR registration, ORCA filing and FEMA Vendor Profile creation, government marketing services including email marketing and Dynamic Small Business Search profile creation, as well as a free government market assessment to help businesses determine whether government contracting is right for them.
In order to win government contracts, the Small Business Administration urges vendors to market themselves aggressively. US Federal Contractor Registration gives small businesses the tools to do just that. By putting business owners in contact with the decision makers in government agencies and larger firms, these vendors can start networking and taking their first steps towards success in government contracting.
US Federal Contractor Registration is the official third-party registration firm. We offer businesses the option to work with a case manager to complete and maintain their CCR registration and ORCA filing for one year, and then market their business to the federal government. Contact us today at https://www.uscontractorregistration.com or #877-252-2700 to start your registration and receive our "Validated Vendor" seal.
###