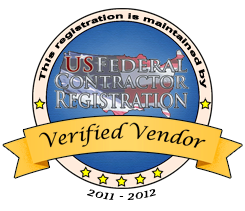 St. Petersburg, FL (PRWEB) October 10, 2011
Good Shepherd Flooring is an experienced, highly trained carpet and flooring cleaning company based in Grand Junction, Colorado. Their technicians use only non-toxic, biodegradable, manufacturer recommended products to clean carpets and remove harmful bacteria and dirt.
Good Shepherd Flooring turned to US Federal Contractor Registration to help them complete their CCR registration and ORCA filing in June 2011. They were subsequently awarded the Verified Vendor seal to affirm that their registration is complete and free from errors.
US Federal Contractor Registration is a third party registration firm which helps business owners with their CCR registration, ORCA filing preparation, FEMA Vendor Profile and government marketing in order to win government contracts. They accomplish this goal by assigning a case manager to guide vendors through the paperwork and necessary steps to do business with the Federal Government.
By adding the Verified Vendor seal to their company website, Good Shepherd Flooring confirms their error-free CCR and ORCA registration for interested federal buyers.
The Georgia Tech Procurement Assistance Center estimates as many as 20% of current records in the Central Contractor Registration contain errors or missing information. These errors can cause problems for vendors and organizations looking for contracts, grants and other payments. Even minor errors and omissions can potentially lead to big headaches for a firm interested in doing business with the Federal government.
By working with an experienced and knowledgeable case worker, business owners can avoid these costly mistakes. US Federal Contractor Registration reviews the vendor's information, carefully enters it into CCR and cooperates with all parties to navigate through any issues as they arise. Problems commonly encountered involve discrepancies between data recorded in Dun and Bradstreet, CCR and the IRS. While such issues are generally simple to correct, it can be time consuming and frustrating for an inexperienced business owner to determine where the discrepancy lies or even what is causing the problem. US Federal Contractor Registration case managers are familiar with these and other issues, allowing them to quickly identify the problem and correct it.
Completing CCR registration and ORCA filing allows businesses to compete for contracts awarded by the Federal Government. Vendors who meet the SBA's Small Business Size Standards, such as Good Shepherd Flooring, are in especially high demand as procurement officers seek to meet the 23% government-wide set aside goals for small business contract awards. Good Shepherd Flooring also qualifies for both Veteran- and Women-Owned Business Enterprise set aside contracts.
In order to help vendors stand out and increase buyers' confidence in a vendor, US Federal Contractor Registration awards businesses with the Verified Vendor seal upon completion of their registration. This seal affirms that the vendor has completed their CCR and ORCA registration and that their registration has been verified to be free from errors. The seal will also benefit procurement specialists who do business with these vendors; they can buy with confidence knowing that time and money will not be wasted due to an incorrect, incomplete or expired CCR registration.
US Federal Contractor Registration is a third party company offering businesses the option to work with a case manager to complete and maintain their CCR registration and ORCA filing for one year, complete their FEMA Vendor Profile and market their business to the federal government. Request a Free Government Market Assessment today at http://governmentcontractingtips.com to find out if government contracting is right for your business.
###