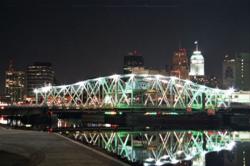 St. Petersburg, FL (PRWEB) October 22, 2011
US Federal Contractor Registration is reporting an immediate demand for registered businesses to work federal government contracts in New Jersey. At this time, there are over 500 listings on the FedBizOpps website posted by contracting officers looking for vendors to bid on available work.
In the past year, over $6 billion has been spent on federal contracts in the state of New Jersey, 1.63% of the national total spent on contracts during the past year reported on the USASpending website.
According to the USASpending website, over 65% of all contracting dollars spent in New Jersey over the last year were competed and put out for open bidding by contractors. Small businesses in particular are urged to complete registration and place bids for contracts. Of the 60,674 contracts awarded in New Jersey over the past year, over half were awarded to small businesses. Each federal agency is urged by regulations to award at least 23% of their contracting dollars to small businesses.
The highest numbers of contracts awarded to small businesses were for Engineering Services, Biological Products, Research and Development in the Physical Engineering and Life Sciences, Facilities Support Services and Commercial and Institutional Building Construction however contracting agencies in New Jersey purchased everything from Aircraft Components to Weapons. Following damage caused by Hurricane Irene FEMA contracts are also available; contractors should complete their FEMA Vendor Profile which will allow them to perform on FEMA disaster relief contracts.
The Georgia Tech Procurement Assistance Center has estimated that nearly 20% of CCR records errors or omissions. It is extremely important that contractors' CCR and ORCA registration are complete and accurate. Failure to complete and maintain the required government registrations can result in payment delays or disqualification for contract awards. Serious errors may even result in fines or punitive action. To win their first contract, most businesses spend an average of 20 months and $100,000 marketing their business to contracting agencies. If their registration is incomplete or incorrect, all that time and money will have been wasted.
To help small businesses avoid costly errors, US Federal Contractor Registration is offering a free evaluation and review of vendors' government registration, including their CCR registration and ORCA filing. During the evaluation, a Placement Specialist will review the company's government contractor registration to ensure it is complete, contains the correct information and is optimized to help them win government contracts. To receive this free evaluation, interested businesses should contact the toll free Contractor Helpline at #877-252-2700. Placement Specialists can also prepare a free government contracting profitability assessment to help business owners review government spending trends within their industry and identify current contracting opportunities.
US Federal Contractor Registration is a third party registration firm that has helped thousands of businesses complete their CCR registration and bid on contracts. US Federal Contractor Registration pairs businesses with a dedicated case manager who helps them every step of the way from initial registration to bidding on contracts. To request a free evaluation and assessment by a Placement Specialist for your business, call the Contractor Helpline at 877-252-2700 ext 1 or visit our website at https://www.uscontractorregistration.com/.
# # #