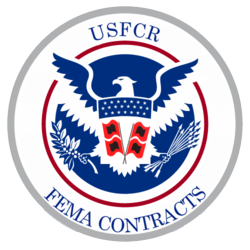 St. Petersburg, FL (PRWEB) November 09, 2011
FEMA is currently watching several areas of interest that may require disaster relief contractors to be mobilized soon. Contractors are needed to fill many roles in FEMA's disaster response plans, including general contractors, debris removal, administrative support and emergency supplies manufacturers.
A record number of declared disasters have struck the United States during 2011 and kept FEMA busy throughout the year – over 13,000 contracts have been awarded by the agency since January 2011, according to USASpending. These disasters have included a record number of tornadoes in Joplin, MO, an unexpected earthquake in Washington, DC, wildfires in Texas and an active hurricane season that produced Hurricane Irene, an historic tropical system that tore a path through the entire Eastern seaboard.
In order to qualify for FEMA contracts, businesses must obtain a DUNS number, complete CCR registration, file their ORCA and submit a FEMA Vendor Profile. In order to complete all the paperwork necessary, contractors may need to dedicate weeks in preparation and research. The actual registration process may also take several days to complete and many business owners experience difficulty resolving problems with their registration.
US Federal Contractor Registration has made it easier for contractors to get registered and compete for FEMA contracts with their new streamlined FEMA contracting information and registration portal. Interested businesses can also still get help by calling the Contractor Helpline at (877) 252-2700 ext. 1.
Time is especially of the essence when it comes to FEMA contracting. Since disasters can strike at any time and with little warning, contractors must be ready to start work as soon as it's safe to enter the affected areas. Contracts are often awarded on the spot to those vendors who show up ready to work.
This means that contractors cannot wait until after the disaster to get registered. If they wait, they are likely to miss out on the best contracts and opportunities. In addition, with Congress looking to slash agency budgets and FEMA having already risked running out of money following Hurricane Irene, contractors who wait to pursue FEMA contracts may arrive only to find the agency's coffers empty.
North Carolina's Interim State Purchasing Officer, Sam Byassee stated on the North Carolina Governor's Office Blog following the unprecedented string of tornadoes that struck their area:
"The aftermath of recent tornadoes created an unanticipated contracting opportunity for many vendors in North Carolina who provide storm recovery services. Given the urgency of the situation, arrangements needed to be managed quickly, efficiently and in accordance with the sometimes complicated rules and codes."
It is essential that as many qualified contractors as possible complete registration in order to ensure that there are enough resources available during an emergency for FEMA to fulfill their disaster relief mission and serve communities when they are in most need of assistance. Early preparation and diligence can make the difference between receiving a contract award or missing a once in a lifetime opportunity.
US Federal Contractor Registration is a third party registration firm dedicated to helping small businesses find success in federal government contracting. To find out if government contracting can help your business, visit our website at https://www.uscontractorregistration.com or call our Contractor Helpline at (877) 252-2700 ext 1.
# # #