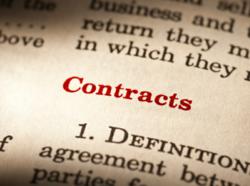 St. Petersburg, FL (PRWEB) December 27, 2011
Time is running out for businesses to write off the cost of assigning a case manager to complete their CCR registration and ORCA filing. The cut off for the tax year is less than a week away, so businesses need to act now before the December 31st deadline.
Government contracting can help breathe new life into struggling businesses as well as encourage new growth. While the economy is slowly beginning to recover, many business owners are still looking for new ways to revitalize their companies. Often this search leads them to government contracting however the amount of government regulation and paperwork involved can turn many potential vendors away from an otherwise lucrative venture.
The federal government has already awarded over $18 Billion in government contracts nationwide since October 1st, 2011, according to USASpending. Over half the contracts awarded so far have been awarded to small businesses. "The United States Government is the world's largest consumer," says Eric Knellinger, president of US Federal Contractor Registration. "Just last year, the federal government spent over $489 Billion on products and services from private companies."
However, in order to be eligible for federal contracts, vendors must complete mandatory registration. This includes obtaining a DUNS number, completing CCR registration and submitting their ORCA filing. Individual agencies may also have their own registration requirements, such as FEMA's Vendor Profile registration.
Unfortunately, many vendors who try to complete their CCR registration on their own run into problems. The Georgia Tech Procurement Assistance Center has reported that nearly 20% of all current CCR records contain errors or omissions. Judy Bradt estimates that businesses spend an average of 20 months and $100,000 marketing their business to contracting agencies just to win their first contract. Problems with CCR and ORCA will cost those businesses even more time and money as even simple mistakes can disqualify a vendor from a contract award or even result in fines and punitive actions.
Additionally, there are many rules and regulations that govern federal contracting. The Federal Acquisition Regulations manual, which regulates government contracting and instructs vendors how to complete the ORCA, is over 2000 pages long and written in legal terms that may confuse the average contractor.
For this reason, US Federal Contractor Registration offers businesses a case manager to work with through registration and answer any questions they have about government contracting. Just like hiring an accountant to handle their taxes, US Federal Contractor Registration's case managers ensure that all the required registration for federal contracting is completed quickly and accurately. If any problems arise their experience and knowledge allows them to immediately implement solutions.
Business owners can get immediate contracting help by calling the Contractor Helpline toll free at (877) 252-2700 ext 1. A Placement Specialist can then help them find current contracting opportunities, purchasing trends for federal agencies and review their registration for errors that could impact their ability to win government contracts.
Although many small businesses assume they can't compete with big companies or fulfill the government's needs, the reality is that over $92 Billion in contracts were awarded to small businesses during the 2011 fiscal year according to USASpending. Federal regulations such as the Small Business Act and assistance programs like the 8(a) Business Development Program also help create in-roads for small businesses to compete for government contracts.
US Federal Contractor Registration is a third party registration firm that has helped thousands of businesses complete their CCR registration and bid on contracts. US Federal Contractor Registration pairs businesses with a dedicated case manager who helps them every step of the way from initial registration to bidding on contracts. To request a free evaluation and assessment by a Placement Specialist for your business, call the Contractor Helpline at (877) 252-2700 ext 1 or visit our website at https://www.uscontractorregistration.com/.
# # #