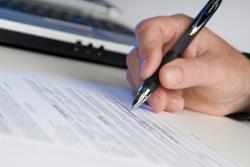 St. Petersburg, FL (PRWEB) January 09, 2012
US Federal Contractor Registration is advising firms who provide professional, scientific and technical services to consider government contracting, citing a rise in federal contract awards.
According to the North American Industry Classification System, Professional, Scientific and Technical Services perform activities which require a high degree of expertise and training, specializing in accordance to their expertise and providing services to clients in a variety of industries. These include services such as legal advice and representation; accounting, bookkeeping, and payroll services; architectural, engineering, and specialized design services; computer services; consulting services; research services; advertising services; photographic services; translation and interpretation services; veterinary services; and other professional, scientific, and technical services.
In Fiscal Year 2011, over $146 billion was awarded for contracts under this industry classification code, according to data on the USASpending website. Since October 1st, 2011, the beginning of Fiscal Year 2012, a report on the Federal Procurement Data System shows over 12% of government contracts were awarded for Professional, Scientific and Technical Services, second only to Electronics, Computer and Transportation Equipment Manufacturing. With the Obama Administration's push for agencies to adopt cloud computing, provide more transparency to tax payers and allow more federal employees to engage in telework, IT government contractors in particular should expect significant growth during 2012.
In order to be considered eligible for any federal government contracts, firms must complete the required registration. This includes obtaining a D&B number and completing CCR registration and ORCA filing. Additional registration forms may be required for individual agencies and contracting vehicles.
On December 8th, the Federal Risk and Authorization Management Program, or FedRAMP, was launched in an effort to allow more federal agencies to adopt cloud services which meet federal security standards. This and other factors, such as increased telework by federal employees and greater utilization of the web to provide government transparency to tax payers, has helped the information technology industry remain strong even during an economic downturn. Despite uncertainty in future government spending and procurement, experts all agree that professional, scientific and technical services, especially information technology related services, will remain in high demand by federal agencies.
"This past fiscal year we saw the highest number of contracts awarded to these firms," said Eric Knellinger, President of US Federal Contractor Registration. "IT contractors, translators, engineers, lawyers, architects and researchers were awarded over $146 billion in federal contracts during 2011."
Currently, there are over 550 opportunities listed for professional, scientific and technical services firms on the FedBizOpps website, which lists federal contracting opportunities valued at $25,000 or higher. Opportunities are not limited to large businesses only; 140 of those listings are set aside solely for various small business concerns.
US Federal Contractor Registration is a third party registration firm that has helped thousands of businesses complete their CCR registration and bid on contracts. US Federal Contractor Registration pairs businesses with a dedicated case manager who helps them every step of the way from initial registration to bidding on contracts. To request a free evaluation and assessment by a Placement Specialist for your business, call the Contractor Helpline at (877) 252-2700 ext 1 or visit our website at https://www.uscontractorregistration.com/.
###