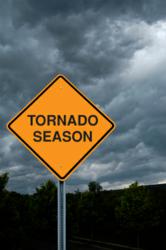 St. Petersburg, FL (PRWEB) March 07, 2012
FEMA officials have begun their survey of damage following an outbreak of severe weather and tornadoes in southern Illinois last week. FEMA is starting with Harrisburg and will be assessing the damage and how capable the region will be to recover from the storm's impact. This information will be used to help support the state's request for a federal disaster declaration.
The most severe damage from the tornadoes occurred in Harrisburg, leaving six dead and 100 injured. The storm that impacted Harrisburg was part of a larger storm system which killed 13 people throughout the Midwest and South.
Contractors are needed to help FEMA respond to disaster relief demands following the tornadoes. While there is an immediate need for debris removal and construction contractors, FEMA has a need for products and services in virtually all industries. With tornado season off to a prolific start and hurricane season quickly approaching, contractors nationwide should begin preparing for future contracting demands by checking their registration status.
In order to bid on and work government contracts, businesses must obtain a DUNS number and must complete CCR and ORCA registration. Submission of a FEMA Vendor Profile is also required in order to win FEMA disaster relief contracts. Successful contractors also develop aggressive government marketing plans which include the creation of a profile on government websites such as the SBA's Dynamic Small Business Search and automated bid notifications to their email. US Federal Contractor Registration is strongly encouraging small businesses to ensure their registration is complete and correct so they don't miss out on the new opportunities available in government contracting. Information on how to win federal government contracts can be requested through the Contractor Helpline at (877) 252-2700 ext 1.
Unfortunately, many vendors who try to complete their CCR registration on their own run into problems. The Georgia Tech Procurement Assistance Center has reported that nearly 20% of all current CCR records contain errors or omissions. Judy Bradt has stated that in order to win their first contract, most businesses spend an average of 20 months and $100,000 marketing their business to contracting agencies. Problems with CCR and ORCA will cost those businesses even more time and money as even simple mistakes can disqualify a vendor from a contract award or even result in fines and punitive actions.
To help small businesses avoid costly errors, US Federal Contractor Registration is offering a free evaluation and review of vendors' government registration, including their CCR registration and ORCA filing. During the evaluation, a Placement Specialist will review the company's government contractor registration to ensure it is complete, contains the correct information and is optimized to help them win government contracts. To receive this free evaluation, interested businesses should contact the toll free Contractor Helpline at (877) 252-2700 ext 1. Placement Specialists can also prepare a free government contracting profitability assessment to help business owners review government spending trends within their industry and identify current contracting opportunities.
With climate conditions perfect for the formation of additional supercell thunderstorms – the type which typically spawn deadly tornadoes – it is vital that contractors be prepared to respond to contracting opportunities at a moment's notice.
US Federal Contractor Registration is a third party registration firm that has helped thousands of businesses complete their CCR registration and bid on contracts. US Federal Contractor Registration pairs businesses with a dedicated case manager who helps them every step of the way from initial registration to bidding on contracts. To request a free evaluation and assessment by a Placement Specialist for your business, call the Contractor Helpline at (877) 252-2700 ext 1 or visit our website at https://www.uscontractorregistration.com/.