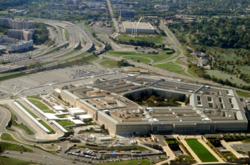 St. Petersburg, FL (PRWEB) May 04, 2012
The Federal Times has recently reported that Defense Secretary Leon Panetta has been urged by 26 Democratic senators to cap their contractor workforce to match suggested cuts to the DoD's civilian workforce. The Pentagon has suggested arbitrarily capping the civilian workforce to match 2010 levels, which would result in tens of thousands of jobs cut, according to the American Federation of Government Employees.
US Federal Contractor Registration is recommending that contractors start reviewing their registration and marketing plans now to prepare for future cuts to not only the DoD budget, but every federal agency. Between 2010 and 2011 federal government spending on contracts was reduced by $20 billion which, according to Professional Services Council President Stan Soloway, "equates to tens of thousands of private sector jobs losses."
US Federal Contractor Registration provides assistance to firms interested in federal government contracting, including help with registration and marketing to federal agencies. Information about their services and answers to general government contracting questions are available through the Contractor Helpline at (877) 252-2700 ext 1.
"Businesses need to review their registration for errors now since the federal government doesn't have time or money to wait around on awarding a contract," advised Eric Knellinger, President of US Federal Contractor Registration. "If your registration is incomplete or you made a mistake, that contract is going to someone else."
The suggested workforce cuts are just one part of what CNNMoney recently referred to as the "fiscal cliff" - $7 trillion in spending cuts and tax increases scheduled to take effect by the year's end.
In order to qualify for federal government contracts, businesses must complete the required registration. This includes CCR registration and ORCA filing – both of which are to be replaced with the new System for Award Management (SAM) this month. The Small Business Administration also strongly recommends vendors market their services aggressively in order to win contracts, especially small business contractors.
However, many contractors who attempt registration and marketing on their own fail. The Georgia Tech Procurement Assistance Center estimates that 20% of current CCR registration records are either incomplete or were done incorrectly. Judy Bradt estimates that most businesses spend an average of 20 months and $100,00 marketing their business in order to win their first contract. The American Express OPEN for Government Contracts: Victory in Procurement (VIP) for Small Business Program backs this up in their report last year showing small businesses placed an average of 4.4 bids and spent an average of $103,827 to win their first contract during 2011.
"A reduction in federal spending, no matter how it's applied will mean fiercer competition for contractors," commented Mr. Knellinger. "Small businesses in particular need to make sure they are using all the resources available to them to help them successfully compete against other vendors."
US Federal Contractor Registration is a third party registration firm that has helped thousands of businesses complete their CCR registration and bid on contracts. US Federal Contractor Registration pairs businesses with a dedicated case manager who helps them every step of the way from initial registration to bidding on contracts. To request a free evaluation and assessment by a Placement Specialist for your business, call the Contractor Helpline at (877) 252-2700 ext 1 or visit our website at https://www.uscontractorregistration.com/.