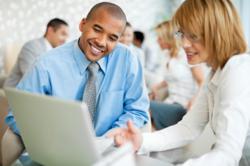 St. Petersburg, FL (PRWEB) May 08, 2012
GovKinex is helping contractors harness the marketing power of the internet through their easily accessible and simple to navigate web brochures.
Federal purchasing officers are required by Part 10 of the Federal Acquisition Regulation to perform market research before, during, and after engaging in contracting activities with a business. This research includes reviewing online materials.
According to a survey by Discover Small Business Watch, 47% of consumers are more likely to buy from a small business that has a website. Government buyers are no different from private sector consumers in this regard – if a company has a website outlining their capabilities, purchasing officers will have more information to base their decision on when it comes time to award a contract.
"Contractors who do not keep up with the times and build an online presence will not be winning contracts in the future," remarked Eric Knellinger, President of US Federal Contractor Registration. "As competition in the Federal market increases, vendors will need to do more and more to set their firm apart from their competitors."
Federal budget cuts are driving up competition for government contracts. The Small Business Administration advises vendors, especially small businesses, to market aggressively in order to win government contracts. New vendors or contractors who have not invested in their marketing efforts will find it even more difficult to break into federal contracting unless they follow the SBA's advice.
Contractors may request a free website consultation by calling GovKinex at (727) 565-0905 ext 1.
GovKinex, a division of US Federal Contractor Registration, has already helped several contractors establish a viable web presence at a fraction of the cost and time demanded by traditional web development services. The service includes registration of a domain, creation of a 7 page site in the proper government format, hosting and updates for one year, inclusion in the official government small business search engine, and email bid notification. The package also covers full registration required for federal contracting, including Dun & Bradstreet, CCR registration, ORCA filing, and the FEMA Vendor Profile.
Government marketing has already helped many inexperienced vendors start off right by establishing their brand with government buyers on the world wide web, registering their profile on all the official government websites, sending notification of new bids directly to their email and developing a personalized government business plan which includes the names and contract information for contracting officers who have purchased similar products and services in the past.
GovKinex is a division of US Federal Contractor Registration, a third party registration firm which has helped thousands of businesses complete their CCR registration and bid on contracts. US Federal Contractor Registration pairs businesses with a dedicated case manager who helps them every step of the way from initial registration to bidding on contracts. For a free consultation, call GovKinex at (727) 565-0905 ext 1 or visit our website at http://www.govkinex.com/.