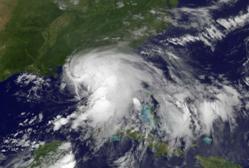 Orlando, FL (PRWEB) July 13, 2012
US Federal Contractor Registration is encouraging businesses to register for FEMA contracts immediately. According to a news report on Bay News 9, FEMA is opening a Disaster Recovery Center in New Port Richey, FL following severe flooding caused by Tropical Storm Debby in June.
Tropical Storm Debby was the fourth named storm of the 2012 Atlantic hurricane season. The slow moving storm caused extensive damage due to heavy flooding, multiple tornadoes, and high winds throughout most of the state of Florida in late June 2012. Nine fatalities have been attributed to Tropical Storm Debby and damages have been estimated at over $42 million, according to Wikipedia.
In order to qualify for any federal contracts, vendors must obtain a DUNS number and have completed their CCR registration and ORCA filing. To qualify for FEMA contracts, businesses must also complete a FEMA Vendor Profile. Vendors are also strongly encouraged to complete their Dynamic Small Business Search profile. Failure to complete all these steps prior to bidding may cause costly delays or even result in losing a contract award to another business.
While the biggest demands are for debris removal, construction services and emergency supplies, other industries are also needed to help FEMA fulfill its goals. Interested businesses should get registered as soon as possible so they don't miss out on FEMA contracting opportunities. Unfortunately, many vendors who try to complete their CCR registration on their own run into problems. The Georgia Tech Procurement Assistance Center has reported that nearly 20% of all current CCR records contain errors or omissions.
To help businesses quickly prepare for FEMA contracts, US Federal Contractor Registration now helps their clients complete the FEMA Vendor Profile, in addition to assisting them with their CCR and ORCA registration. US Federal Contractor Registration's government marketing services include the creation of a Dynamic Small Business Search profile for the vendor as well.
US Federal Contractor Registration is a third party registration firm with corporate offices in Orlando, FL that has helped thousands of businesses complete their CCR registration and bid on contracts. US Federal Contractor Registration pairs businesses with a dedicated case manager who helps them every step of the way from initial registration to bidding on contracts. US Federal Contractor Registration's Orlando BBB rating is A- thanks to the quality of their service and responsiveness to customers. To request a free evaluation and assessment by a Placement Specialist for your business, call the Contractor Helpline at (877) 252-2700 ext 1 or visit our website at https://www.uscontractorregistration.com/.