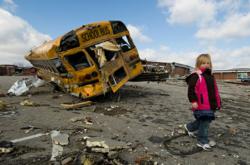 Orlando, FL (PRWEB) August 17, 2012
Hurricane season is reaching its peak and US Federal Contractor Registration is urging contractors not to delay in registering for FEMA contracting opportunities ahead of the storms. The NOAA reports that hurricane season peaks between mid-August and late October. Their prediction for this season, updated August 9th, calls for 12 to 17 named storms including 2 or 3 major hurricanes.
In order to qualify for any federal contracts, vendors must obtain a DUNS number and have completed their SAM registration. To qualify for FEMA contracts, businesses must also complete a FEMA Vendor Profile. Vendors are also strongly encouraged to complete their Dynamic Small Business Search profile. Failure to complete all these steps prior to bidding may cause costly delays or even result in losing a contract award to another business.
The System for Award Management, or SAM, has recently been deployed to integrate the legacy "siloed" procurement systems, including CCR and ORCA. However, the new system has been causing problems for both contractors and purchasing officers facing deadlines for contracts. The site's launch was marked by significant errors and instability, leaving many users unable to even load the website. With this in mind, US Federal Contractor Registration is strongly recommending users act now to start their new registration or update their existing registration. "You don't want to be caught with a problem with your registration when a contract is on the line," commented James Logan, Small Business Acquisition Manager at GovKinex. "Federal agencies are under so much pressure at this time, if you're not ready to be awarded the contract right now – they're likely to move on to the next eligible vendor who is."
To help businesses quickly prepare for FEMA contracts, US Federal Contractor Registration now helps their clients complete the FEMA Vendor Profile, in addition to assisting them with their SAM registration. US Federal Contractor Registration's government marketing services include the creation of a Dynamic Small Business Search profile for the vendor as well.
US Federal Contractor Registration is currently offering a free evaluation and review of vendors' government registration, including their SAM registration. During the evaluation, a Placement Specialist will review the company's government contractor registration to ensure it is complete, contains the correct information and is optimized to help them win government contracts. To receive this free evaluation, interested businesses should contact the toll free Contractor Helpline at (877) 252-2700 ext 1. Placement Specialists can also answer questions contractors may have about the new System for Award Management or current federal procurement opportunities.
"It is absolutely vital for small businesses to get registered in order to provide FEMA the resources it needs to help families and communities impacted when disaster strikes," urged Eric Knellinger, President of US Federal Contractor Registration. US Federal Contractor Registration's corporate offices are based in Orlando, FL.
US Federal Contractor Registration, a third party registration firm based in Orlando, FL which has helped thousands of businesses complete their SAM registration and bid on contracts. US Federal Contractor Registration pairs businesses with a dedicated case manager who helps them every step of the way from initial registration to bidding on contracts.