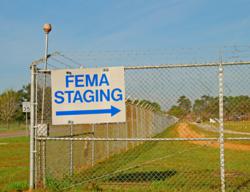 Orlando, FL (PRWEB) August 22, 2012
US Federal Contractor Registration is alerting contractors to get registered for FEMA contracts as a new tropical system develops in the Atlantic.
Tropical Depression Nine is creating extra anxiety for officials in Tampa, FL who are preparing for next week's Republican National Convention, according to Bay News 9. The storm's projected track would take it on a collision course with the Sunshine State as a major hurricane – at the very same time the RNC is scheduled to be taking place.
The NOAA lists the peak of hurricane season occurring between mid-August and late October. A total of 12-17 names storms have been predicted for the 2012 season, including 2 or 3 major hurricanes.
To qualify for any government contracts, businesses must get a DUNS number and complete SAM registration.
The System for Award Management, or SAM, has been deployed in order to replace the legacy "siloed" procurement websites, including CCR and ORCA. Persistent issues with SAM have been reported on the Contracting Tips Blog.
In order to compete for FEMA contracts, vendors must complete a FEMA Vendor Profile in addition to SAM registration. All vendors are also strongly encouraged by the Small Business Administration to implement an aggressive marketing campaign in addition to the basic registration requirements.
To help businesses quickly prepare for FEMA contracts, US Federal Contractor Registration now helps their clients complete the FEMA Vendor Profile, in addition to assisting them with their SAM registration. US Federal Contractor Registration's government marketing services include the creation of a Dynamic Small Business Search profile for the vendor as well.
US Federal Contractor Registration is currently offering a free evaluation and review of vendors' government registration, including their SAM registration. During the evaluation, a Placement Specialist will review the company's government contractor registration to ensure it is complete, contains the correct information and is optimized to help them win government contracts. To receive this free evaluation, interested businesses should contact the toll free Contractor Helpline at (877) 252-2700 ext 1. Placement Specialists can also answer questions contractors may have about the new System for Award Management or current federal procurement opportunities.
"It is absolutely vital for small businesses to get registered in order to provide FEMA the resources it needs to help families and communities impacted when disaster strikes," urged Eric Knellinger, President of US Federal Contractor Registration. US Federal Contractor Registration's corporate offices are based in Orlando, FL.
US Federal Contractor Registration is a third party registration firm with corporate offices in Orlando, FL that has helped thousands of businesses complete their SAM registration and bid on contracts. US Federal Contractor Registration pairs businesses with a dedicated case manager who helps them every step of the way from initial registration to bidding on contracts. US Federal Contractor Registration's BBB rating is A- thanks to the quality of their service and responsiveness to customers. To request a free evaluation and assessment by a Placement Specialist for your business, call the Contractor Helpline at (877) 252-2700 ext 1 or visit our website at https://www.uscontractorregistration.com/.