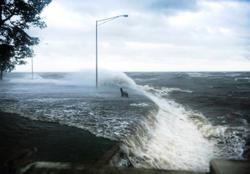 Orlando, FL (PRWEB) August 30, 2012
Tuesday evening, Hurricane Issac made landfall just southwest of the mouth of the Mississippi River according to the National Hurricane Center. With winds at a top speed of 80 mph, Issac made landfall as a strong Category 1 hurricane nearly 7 years to the day that Hurricane Katrina broke through New Orleans' levees and flooded the city.
FEMA has deployed staff all along the Gulf Coast and is working closely with federal, state, and local partners to prepare for the storm, according to their blog. President Obama has signed a declaration of emergency for both the state of Mississippi and Louisiana, which will make federal assistance and support more readily available to the states.
In order to provide support and relief to the Gulf Coast following the storm, FEMA will rely heavily upon disaster relief contractors and local businesses. However, these businesses must be properly registered in order to receive contracts or collect payment.
"Now is the time for businesses to get registered," advised Eric Knellinger, President of US Federal Contractor Registration, "FEMA often will award a contract on the spot if a qualified vendor shows up ready to work – but after an emergency, they don't have time to wait for those businesses to register. If you're not immediately ready to get to work, the contract will go to someone who is."
To qualify for any government contracts, businesses must get a DUNS number and complete SAM registration.
The System for Award Management, or SAM, has been deployed in order to replace the legacy "siloed" procurement websites, including CCR and ORCA. Persistent issues with SAM have been reported on the Contracting Tips Blog.
In order to compete for Hurricane Issac FEMA contracts, vendors must complete a FEMA Vendor Profile in addition to SAM registration. All vendors are also strongly encouraged by the Small Business Administration to implement an aggressive marketing campaign in addition to the basic registration requirements.
To help businesses quickly prepare for FEMA contracts, US Federal Contractor Registration now helps their clients complete the FEMA Vendor Profile, in addition to assisting them with their SAM registration. US Federal Contractor Registration's government marketing services include the creation of a Dynamic Small Business Search profile for the vendor as well.
Businesses can verify their registration status for free simply by making a phone call to the Contractor Helpline at (877) 252-2700 ext 1. Placement Specialists will check their registration status and go over any additional requirements vendors may need before they can be awarded a contract.
US Federal Contractor Registration is a third party registration firm with corporate offices in Orlando, FL that has helped thousands of businesses complete their SAM registration and bid on contracts. US Federal Contractor Registration pairs businesses with a dedicated case manager who helps them every step of the way from initial registration to bidding on contracts. US Federal Contractor Registration's BBB rating is A- thanks to the quality of their service and responsiveness to customers. To request a free evaluation and assessment by a Placement Specialist for your business, call the Contractor Helpline at (877) 252-2700 ext 1 or visit our website at https://www.uscontractorregistration.com/.