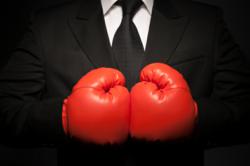 Orlando, FL (PRWEB) September 25, 2012
US Federal Contractor Registration is recommending that government contractors focus more on marketing their products and services to federal agencies.
"Many vendors complete registration and believe that's all they need to do to start getting contract awards," explained Eric Knellinger, President of US Federal Contractor Registration. "We try to educate these firms that registration is only the very first step in the process of working with the federal government."
Both the Small Business Administration and the VETBIZ Resource Center advise small businesses to "aggressively market" their company's products and services to the federal agencies who buy from their industries. This requires significant effort on the part of the contractor to perform market research as well as outreach and networking with purchasing officers in order to generate leads and contracting opportunities.
"It is extremely rare that I find successful contractors who won a contract just by registering in CCR," commented James Logan, Small Business Acquisition Manager with GovKinex. "Nearly all of the successful businesses I work with are successful only because they invested their time and money in researching federal procurement trends and launching an effective marketing campaign."
According to the SBA's Small Business Procurement Scorecards, the federal government has consistently failed to meet its mandated government-wide small business procurement goal of 23% over the last 5 years. Failure to meet this goal results in billions of contracting dollars not reaching the small businesses these funds were set aside for.
To help small businesses access these contracting dollars and find success in the federal market, US Federal Contractor Registration offers a comprehensive range of services and resources for both large and small companies. For information on these and other resources for federal contractors, call the Contractor Helpline at (877) 252-2700 ext 1.
US Federal Contractor Registration is strongly urging registered vendors not to neglect marketing when searching for federal contracts. It is necessary for vendors to perform market research, prepare a capabilities statement, create a focused government contracting website, register on the appropriate search engines and bid boards, and contact individual purchasing officers to find promising procurement opportunities.
With the upcoming across the board budget cuts, also known as sequestration, scheduled to take effect next year, it is even more important than ever for small businesses to put extra effort into their marketing strategies. Even small steps or a few hours of research into past contracting trends could make the difference between success and failure for a small firm.
US Federal Contractor Registration is the first and largest registration firm, with corporate offices in Orlando, FL . US Federal Contractor Registration has helped thousands of businesses complete their SAM registration and bid on contracts. US Federal Contractor Registration pairs businesses with a dedicated case manager who helps them every step of the way from initial registration to bidding on contracts. US Federal Contractor Registration's BBB rating is A- thanks to the quality of their service and responsiveness to customers. To request a free evaluation and assessment by a Placement Specialist for your business, call the Contractor Helpline at (877) 252-2700 ext 1 or visit our website at https://www.uscontractorregistration.com/.