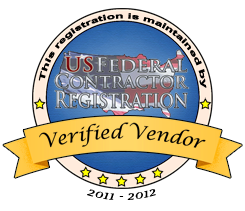 (PRWEB) July 11, 2011
Vendors whose CCR registration and ORCA filing were processed by a US Federal Contractor Registration case manager can now add the Validated Vendor seal to their company's website. The Validated Vendor seal affirms that the vendor's CCR and ORCA are error-free and complete according to Federal standards.
In order to help recently registered vendors stand out in a highly competitive market, US Federal Contractor Registration now awards a seal to vendors which will help identify their error-free registrations to buyers. Upon seeing the "Validated Vendor" seal, purchasing officers can be confident that the vendor's CCR registration and ORCA filing have been carefully processed and reviewed by a competent, experienced case manager.
It is estimated by Georgia Tech that "as many as 20 percent of the over 600,000 firms presently registered in CCR have mistakes in their records." These mistakes can range from misspellings and omissions to incorrect or inaccurate data; any mistakes can potentially disqualify a vendor from being awarded a contract and some can even lead to penalization or criminal charges. Most mistakes are caused by inexperienced vendors rushing through their registration unprepared in order to meet a deadline for a pending contract or payment.
Vendors who wish to include the seal on their company website will be provided with the appropriate HTML code necessary to display the graphic in various sizes. The image is hosted by US Federal Contractor Registration, so vendors will not need to edit or host the image themselves.
The Validated Vendor seal is also included in all capabilities statements and newsletters containing vendors' business information.
According to the Small Business Administration, the Federal government only succeeded in awarding 22.7% of their contracts to small businesses in 2010, falling short of the 23% annual goal mandated by Congress. There are many possible reasons why there are not more qualified small businesses receiving contracts, however one of the most likely is the steep learning curve new vendors need to surmount before they can even begin competing for work. In order to complete the required registration, business owners must learn and understand a series of Federal Acquisition Regulations governing the contracting process. While there are classes available to learn how to register, these can take over 20 hours to complete, time that most struggling small businesses don't have. US Federal Contractor Registration helps new vendors overcome these obstacles by assigning a case manager to assist them in completing their CCR registration and ORCA filing, in as little as 3 – 5 business days.
The SBA recommends that vendors market themselves "aggressively" when pursuing government contracts. US Federal Contractor Registration's new "Validated Vendor" seal is just one more tool for their clients to use to find success in Federal contracting.
US Federal Contractor Registration is a third party company offering businesses the option to work with a case manager to complete and maintain their CCR registration and ORCA filing for one year, and then market their business to the federal government. Contact us today at https://www.uscontractorregistration.com or #877-252-2700 to start your registration.
###