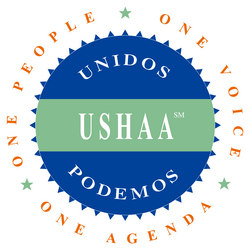 As we deepen our dialogue about our global interactions, there is no better place than the United Nations to commend these companies who have made it part of their common culture to understand and value diverse perspectives
New York, NY (PRWEB) August 22, 2008
The United States Hispanic Advocacy Association (USHAA) announced the winners of its annual BRAVO award for diversity best practices and corporate leadership during its August luncheon at the United Nations.
The 2008 U.S. Fortune 500 recipients of the USHAA BRAVO Award are Abbott Laboratories, State Farm Insurance and The Coca-Cola Bottling Company. Bravo Award honors from the Hispanic 500 were given to ECCO Select Corp., Liberty Power Corporation and Northeast Remsco Construction Inc. & Caldwell Marine Int. LLC.
"As we deepen our dialogue about our global interactions, there is no better place than the United Nations to commend these companies who have made it part of their common culture to understand and value diverse perspectives," said Luis Diaz, President and CEO of USHAA. "They already have incorporated the kind of outlook needed to compete in the new economy and on the world stage."
BRAVO recipients were drawn from the USHAA Top 25 for U.S. Fortune 500 and Hispanic 500 companies. This exclusive compilation recognizes a total of 50 corporations for their commitment to best practices in diversity and inclusion. Recipients were selected based on their supplier and workplace diversity, minority leadership, cultural competence, avoidance of predatory business practices, and input from USHAA's leaders and members.
Award recipients praised USHAA for its work and accepted the awards with optimism about the future of economic development among Hispanic businesses in the US and as part of the global community.
State Farm is the leading home insurer in North America. More than 17,000 agents and 68,000 employees serve over 75 million policies in the U.S. and Canada.
"We applaud and support USHAA's "Green" unifying agenda for capacity building, accountability and partnering to advance economic empowerment for the Hispanic community." said Diana Rael, director of Multi-cultural Markets for State Farm.
Coca-Cola is the world's largest beverage company, operating in more than 200 countries producing more than 2800 beverage products.
"We are pleased that USHAA acknowledged our progress in the diversity arena with their highest award" said Rudy Beserra, Vice President of Latin Affairs.
Abbott Laboratories is a global, broad-based health care company devoted to discovering new medicines, new technologies and new ways to manage health.
"A key competitive advantage for Abbott is our people and the diversity of thought and cultural background they bring to the workplace. We believe that diversity is a catalyst for innovative thinking and better ways of addressing evolving health needs. To that end, Abbott remains committed to attracting, selecting and retaining a high performing, diverse workforce." says Marlon Sullivan, Divisional Vice President of Global Talent Acquisition.
Northeast Remsco is a utility and transportation contractor and marine construction contractor specializing in submarine utility operations deploying power cables, fiber optic cables and systems worldwide. Remsco & Caldwell CEO Juan Gutierrez spoke of the recognition with a special pride:
"To be recognized as one of the top Hispanic companies in the country makes me and my family very proud," Gutierrez said. "This country is an icon of capitalism which offers one of the ultimate forms of freedom, the right of the individual to own private property and operate your own business. It is a freedom that many take for granted but I don't because that right has not existed in my homeland of Cuba for 49 years."
ECCO Select is a premiere consulting and resource management corporation, discovering, designing and delivering successful business solutions for its clients. ECCO CEO Jeanette Prenger found inspiration in the UN gathering.
"I am humbled to be in the company of companies with such long and distinguished track records in their respective industries," said Prenger. "The award, in the context of the first global economic development summit, has set a high standard for expectations to grow our companies in a manner that is inclusive and values diversity."
Liberty Power Corp. is one of the nation's fastest-growing independent energy services companies. Liberty CEO David Hernandez spoke of his company's team commitment to providing businesses with affordable electricity, customized energy solutions and superior customer service.
"We are honored to be a recipient of this year's USHAA Bravo Award, which recognizes our continued efforts to integrate diversity into all business practices, including human resources, procurement and market development," said Hernandez.
USHAA wants this award to model the kind of success that comes of strong relationships with Hispanic consumers and business enterprises focused on the strategic worth of global partnerships, declaring a "new era for economic opportunity" between the U.S. Fortune 500, and the Hispanic 500.
About USHAA: USHAA is the premier economic advocacy non-profit leveraging Hispanic purchasing power.
###