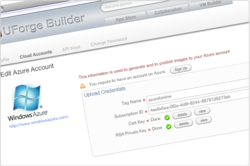 UShareSoft's UForge factory contributes to the Windows ecosystem with a unique tool for the creation, migration and management of software images in Windows Azure, while keeping control and software governance. Alban Richard, CEO, UShareSoft
Microsoft Tech Days, Paris, France (PRWEB) February 14, 2013
UShareSoft, French start-up and a member of the Microsoft BizSpark program, today announced that its UForge platform now supports Windows Azure and Windows Server (versions 2008, 2008 R2 et 2012. Customers and users can now publish their applications on-demand on the Windows Azure cloud platform, from Windows Server or Linux operating systems.
UForge works with the Windows Azure platform to offer a comprehensive and interoperable solution for the creation, deployment, migration and management of the application lifecycle in the cloud.
UForge is a solution for building, automating and distributing software in the cloud, and virtualization. It includes:

UForge factory for modeling, creating and maintaining virtual machines (VMs)
UForge app store interface providing on-demand access to applications
Microsoft customers who want to quickly take advantage of the benefits of the Windows Azure cloud platform can use UForge today. Available in Software as a Service (SaaS) mode or on site, UForge is a multi-OS platform. Developers, architects and systems administrators can assemble and generate their own software stacks or VMs from Windows Server or Linux operating systems in UForge. These virtual machines can be also generated from existing applications for simple migration to the cloud. In a few clicks, VMs are then published to Windows Azure.
Users benefit from a private UForge space, while systems administrators can centrally manage catalogs of components, for control over application governance and life-cycle management. The UForge technology also helps providers of cloud services, businesses and ISVs to build their own dynamic app store, giving their ecosystem of partners and users the ability to collaborate and share these software images, or to sell them to customers from the Azure platform.
"Today's announcement represents a major step for UShareSoft," comments Alban Richard, CEO, UShareSoft. "We are happy to join the Windows Azure ecosystem. With the support of 30 operating systems, UShareSoft's UForge factory contributes to the Windows ecosystem with a unique tool for the creation, migration and management of software images in Windows Azure, while keeping control and software governance."
"Microsoft contributes and collaborates with open source communities with the aim to ensure interoperability, and to simplify and reduce the costs of development and of management of hybrid environments, in particular around Windows Azure," said Frederic Aatz, Director for Interoperability and Open Source Strategy for Microsoft France. "We are pleased to welcome UShareSoft in our ecosystem. As a renown ISV offering solutions based on Linux environments, UShareSoft will extend and enrich Windows Azure, but also reinforce the offers available for hybrid environments."
About UShareSoft
UShareSoft helps cloud providers, enterprises and ISVs simplify software delivery to cloud. UShareSoft's UForge image template management platform includes a VM factory and enterprise app store, helping automatically build and deliver business-ready applications to private, public or hybrid clouds. UShareSoft has headquarters in Europe, an R&D center in Argentina, and offices in the United States and Japan. Visit http://www.usharesoft.com. Follow us on twitter.com/usharesoft