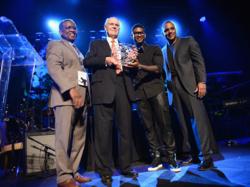 "We need new and great leaders, and that means you," charged Mr. Nobel.
Atlanta, GA (PRWEB) June 27, 2012
Usher, Founding Chairman of the Usher's New Look Foundation, and award-winning musician, honored NSHSS Co-founder and Board Chair Claes Nobel with the New Look Foundation Service Legacy Award during a ceremony closing the 2012 World Leadership Conference. The New Look Foundation sponsors this award. Mr. Nobel was honored with the Service Legacy Award for his establishment of the National Society of High School Scholars, exemplifying his passionate leadership for youth, environmental stewardship and his humanitarianism.
Mr. Nobel, senior member of the family that established the Nobel Prizes, urged students in attendance to become the innovative and caring leaders of tomorrow. "We need new and great leaders, and that means you," charged Mr. Nobel in his riveting speech to those in attendance. "Well you heard the man . . . make me proud when you go out there representing," stated Usher, inspired by Mr. Nobel. "It is an honor to be able to call Mr. Nobel friend and colleague. Together we have helped provide opportunities for students around the world to become the leaders that we need," added James W. Lewis, President and Co-founder of NSHSS.
The star-studded awards ceremony featured an array of public figures and national celebrities. There were performances from Ludacris and native Atlantan T.I. All performers encouraged the youth to pursue their dreams and work hard to achieve their goals--driving the message of focus on talent, education, career and service back to the community. These celebrities who donated their time to New Look showed firsthand how their hard work paid off by performing with Usher to some of their chart-topping hits, entertaining an enthusiastic crowd of young conference attendees.
About Usher's New Look Foundation:
Established in 1999, Usher's New Look Foundation has mentored over 10,000 youth across its four leadership pillars – talent, education, career and service. Through the development of innovative programs and a culture of consistent evaluation, reflection and refinement, New Look has achieved the gold standard in leadership development and success for youth. Now in its thirteenth year, New Look has seen 98% of participating youth graduate high school and go on to college.
About The National Society of High School Scholars (NSHSS)
NSHSS was established to highlight the accomplishments of high school students who have demonstrated outstanding leader-ship, scholarship, and community commitment, as well as to foster their continued success. NSHSS has inducted over 800,000 members from over 160 countries. NSHSS provides a wide array of member benefits that prepare students for both college and careers. For more information visit.nshss.org